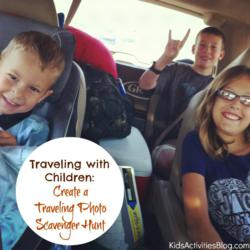 Travel with children does not have to be challenging. It just takes a little preparation.
Dallas, Texas (PRWEB) June 16, 2013
Summer break time is road trip time. A fun car trip scavenger hunt and other cool road trip game ideas have been published on Kids Activities Blog. Avoid constant whining from bored kids in the backseat with these fun ideas from seasoned moms.
Make up a list of 25 things the kids may see during their road trip. Make them easy, make them hard, make them funny, and make them memorable. Make the list different for each kid in the car. A printable template of the car scavenger hunt is available on Kids Activities Blog. All the kids have to do is to find the things and color or circle the words as they find them during the road trip.
Another fun car trip activity is counting little people that will board a plane and go inside a taxi. The fun road game sneaks in math learning, too. Materials needed are cars and people from the Game of Life, three die cast airplanes, a pair of dice, and a tray for the game pieces.
Let the child roll the dice and let them put the people in the airplane according to the number shown on the dice. Let the airplane take off and land, and let the child take the people into the taxi waiting on the runway.
For detailed instructions and to get additional fun road trip game ideas, check out Kids Activities Blog this week. Come get inspired to let the kids have fun in the car.
About Kids Activities Blog
Kids Activities Blog is a website created by two moms (who collectively have 9 children), Rachel Miller and Holly Homer from June Cleaver Nirvana. It is their daily goal to inspire parents and teachers to play with kids. This interactive website publishes simple things to do with kids twice a day. Kids Activities Blog is a great tool for moms and teachers to find kid-friendly activities that create memories and sneak learning into the fun.