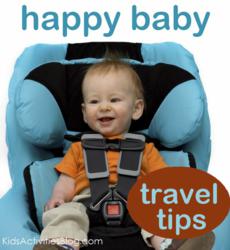 Pack a Mom's bag of tricks to be prepared for any situation.
Dallas, Texas (PRWEB) June 17, 2013
Heading out with an infant this summer? Check out these great tips about traveling with an infant and vacation essentials published on Kids Activities Blog. Seasoned moms have opened up their suitcases to share packing secrets.
Traveling with an infant can feel like a major expedition. Diapers, strollers, baby carriers, toys, bottles, a change of clothes, and everything else in between need to be brought along. Besides the usual items, pack a first aid kit that includes a thermometer, diaper cream, medicine for infant fever and pain, and a list of emergency contact numbers.
Pack a variety of baby's favorite books and toys as well as a few items that they have not seen before. Bring along a bag of mom's bag of tricks. This bag stays right in the car where it can be easily reached and where it is ready to go when exiting the car. The bag includes diapers, a change mat, baby wipes, snacks, water, soft toys, sunscreen, lip balm, hand sanitizer, and tissues.
Bring also zip lock bags for all these smelly unwanted messes such as diapers, food scraps, and baby wipes. No smell, no leaks, no fuss.
Other helpful tips include keeping the baby's routine, planning for baby's sleep needs, and being very patient during road trips. Accept ahead of time that the journey will take much longer than expected.
For additional road trip tips and traveling with an infant advice, check out Kids Activities Blog this week. Come get inspired to make the next road trip pleasant for everyone in the car.
About Kids Activities Blog
Kids Activities Blog is a website created by two moms (who collectively have 9 children), Rachel Miller and Holly Homer from June Cleaver Nirvana. It is their daily goal to inspire parents and teachers to play with kids. This interactive website publishes simple things to do with kids twice a day. Kids Activities Blog is a great tool for moms and teachers to find kid-friendly activities that create memories and sneak learning into the fun.