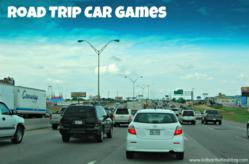 Play road trip games that sneak in geography and math lessons.
Dallas, Texas (PRWEB) June 18, 2013
Heading out for a car trip this summer? Before heading out, check out these fun road trip games published on Kids Activities Blog. Moms have revealed their kid tested games that keep every traveler in the car occupied and happy.
The fun list of road trip games includes classic car games such as the I Spy Game but played with a twist. Let the kids find items in alphabetical order. Playing All State Roundup is fun and teaches geography, too. Bring along laminated maps of the United States and let the kids mark the states with a wipe of marker according to the licence plates they find. Play this game throughout the whole trip.
Other fun games include Grandma's Toy Chest and On Sale. Both games are perfect for keeping the kids occupied until the next stop. A game called Pass By records each funny billboard or sign that the kids find in a book. The book will make a great keepsake for years to come.
For detailed instructions and to get additional fun road trip games, check out Kids Activities Blog this week. Come get inspired to get some fun games before heading out in a car with kids this summer.
About Kids Activities Blog
Kids Activities Blog is a website created by two moms (who collectively have 9 children), Rachel Miller and Holly Homer from June Cleaver Nirvana. It is their daily goal to inspire parents and teachers to play with kids. This interactive website publishes simple things to do with kids twice a day. Kids Activities Blog is a great tool for moms and teachers to find kid-friendly activities that create memories and sneak learning into the fun.