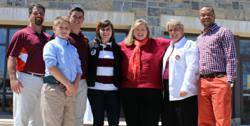 Glen Allen, VA (PRWEB) June 04, 2013
Virginia Tech's Family of the Year award acknowledges those who are mentors, collaborators, friends, advocates, and guides for students. This award honors a parent, family member, or family of a current Virginia Tech student who has made a significant impact on the student's collegiate success.
In her nomination, Erin Helbling, a junior majoring in marketing, said that Karen and Scott Neher opened their home to her and became the loving, kind, and understanding parents she never had. She wrote, "They treated me like one of their own. They have helped me in every way possible, from managing my finances, to dealing with the daily stress of the college grind, to offering advice in difficult situations, and giving encouragement when needed. They generously and unselfishly took me in and have guided me every step of the way in my journey at Virginia Tech. I can honestly say I have no idea where I would be without them." Erin also gave her family the highest honor when she wrote, "They are the people I look up to and the people I strive to be like, more and more, each and every day. They embody Virginia Tech's motto: Ut Prosim (That I May Serve)."
Scott Neher is a Registered Investment Advisor Representative with Infinex Financial Group. Scott joined Benchmark Community Bank in 2002 and is currently one of three financial advisors. He has a passion for teaching people about smart money management and heads up Benchmark's popular I Group, which is free to anyone serious about learning more about investing.
Mike Walker, CEO of Benchmark Community Bank said, "We are very proud of the honor bestowed on Scott and Karen. Their overall support and advice to Erin have made a difference in her life. This is not a complete surprise to me as Scott in his professional life at Benchmark pursues a similar goal of adding value to his clients."
Thomas Huddleston, Southeastern Regional Director for Infinex said, "We are very proud of Scott and his wife Karen for being honored with this award. The commitment that they have made to ensure Erin's continued success at Virginia Tech is reflective of the character and high standards Scott has exemplified during his career at Benchmark Community Bank and Infinex."
Infinex currently supports over 160 community based financial institutions and more than 450 advisors. The firm, headquartered in Meriden, CT and Glen Allen, VA is an independent broker dealer with a unique history of being formed by banks, owned by banks, and focused on providing service to financial institutions.
Financial institutions or advisors interested in learning more about Infinex can contact the Business Development Team at 1-800-218-2827.
Investment and insurance products and services are offered through INFINEX INVESTMENTS, INC. Member FINRA/SIPC. Infinex and the bank are not affiliated. Products and services made available through Infinex are not insured by the FDIC or any other agency of the United States and are not deposits or obligations of nor guaranteed or insured by any bank or bank affiliate. These products are subject to investment risk, including the possible loss of value.