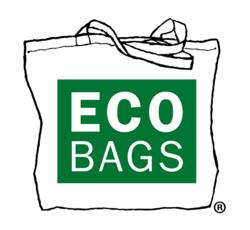 "The ECOBAGS® brand is a leader in ethical & sustainable sourcing and production. Our mission statement, 'cleaning up the planet, one bag at a time™' reflects our company DNA. The environment and social concerns drive us every day; how can they not?"
Ossining, NY (PRWEB) June 01, 2013
Eco-Bags, ECOBAGS Brand, is being recognized by B Corporation for "Best for the Environment" by creating the most overall positive environmental impact score. 63 companies across 30 industries and 11 countries are being recognized by the nonprofit B Lab, with the release of the 'B Corp Best for the Environment List', a second installment in its 'B Corp Best for the World' series.
Eco-Bags, known as pioneers in the Reusable Bag industry, kick-started the "reusable bag movement," in 1989, when they introduced the ECOBAGS® brand for shopping solutions and brand promotions. Manufacturing with fair wage and fair labor and choosing sustainable materials, ECOBAGS® are marketed to consumers looking for alternatives to single-use plastics and to brands wanting socially and environmentally responsible business partners.
Method Products, New Belgium Brewing Company, Patagonia and Seventh Generation were also recognized as leaders in environmental performance. Other honorees include Mas Ambiente, an Argentinian company producing handmade soap from used cooking and frying oil, Namaste Solar, a solar energy, employee-owned cooperative and New Leaf Paper, a developer and distributor of environmentally-responsible paper products. The 'B Corp Best for the Environment' companies come from over 30 different industries and 11 countries. 30% of honorees are based outside the US, with 8 companies operating in emerging markets.
The 'B Corp Best for the Environment List' honors businesses that earned an overall score in the top 10% of all Certified B Corporations for their positive environmental impact, as measured by the B Impact Assessment, a comprehensive assessment used by more than 8,000 businesses to measure their impact on their workers, community, and the environment. This analysis includes metrics regarding their environmentally preferable products, services, and practices, such as their materials, waste, water, and energy inputs/outputs and the environmental impact of their offices, plants, land, suppliers and transportation.
"With so many companies marketing themselves as 'green', it's important to honor those walking the talk," said Jay Coen Gilbert, co-founder of B Lab, the nonprofit organization that certifies B Corporations and governs the B Impact Assessment. "Eco-Bags has proven they're the best of the best by meeting rigorous, comprehensive third party standards consumers can trust."
Each honored company is a Certified B Corporation, a new type of company that uses the power of business for good and meets rigorous standards of overall social and environmental performance, accountability, and transparency. Today there are nearly 750 Certified B Corporations across 60 industries and 25 countries, unified by the common goal to redefine success in business.
In April, B Lab recognized 67 companies as 'Best for the World' (overall impact) and will release separate lists recognizing companies as 'Best for the Community' (community impact) in July and 'Best for Workers' (employee impact) in September.
B Lab is a nonprofit organization dedicated to using the power of business to solve social and environmental problems. B Lab drives systemic change through several interrelated initiatives: 1) building a community of Certified B Corporations to make it easier for all of us to tell the difference between "good companies" and just good marketing; 2) promoting benefit corporation legislation to create a new corporate form that meets higher standards of purpose, accountability and transparency; 3) driving capital to high impact investments through use of B Lab's GIIRS Ratings & Analytics platform; and 4) helping all companies measure what matters through use of the B Impact Assessment, B Lab's free educational tool for measuring and improving a company's impact on it's workers, community, and the environment. Learn more at bcorporation.net, benefitcorp.net, and giirs.org.