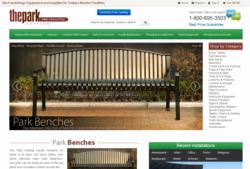 "This is our most recent step in our efforts to improve the shopping experience. There are many more to come." - CEO, Christopher George
Boca Raton, FL (PRWEB) June 04, 2013
The Park Catalog's new mobile-friendly site is built with a responsive design that adjusts to the user's device. So, whether visitors are on location, in the middle of a project, or planning, the site will easily adapt to mobile, tablet, and desktop devices of all sizes for even easier shopping and browsing.
CEO Christopher George explains the company's goals: "With one of the largest catalogs of commercial site furnishings, equipment and supplies, it's vital that we keep TheParkCatalog.com an adaptable, versatile shopping experience that meets the needs of our customers... Easy navigation and a quality selection are top priorities for our customers, so they are for us too."
He emphasizes that "this is our most recent step in our efforts to improve the shopping experience. There are many more to come."
Also part of the redesign, intuitive navigation features will make it even easier to find the right park bench, bleachers, picnic table, speed bump, or commercial bike rack as The Park Catalog expands. Fly-out menus, categorization, and ease of access to detailed information were focuses of the navigation improvements. The site's main navigation menu features fly-out menus organized by type of facility equipment to allow shoppers to find what they're looking for even faster.
The company offers an extensive selection of facility furnishings and supplies that is consistently expanding to offer the most thorough selection of products, styles, materials and price points. Specifically, The Park Catalog has recently expanded its product selection with a growing collection of bollards, backless park benches, the new dog park products and restaurant and café seating options.
About The Park Catalog: The Park Catalog, the proprietary brand of Highland Products Group, has been working to better public spaces since 2001. The brand features high quality furnishings, equipment and supplies for facilities at http://www.theparkcatalog.com and through a master catalog. The company is built on a foundation of knowledgeable, service-driven people and a mission to offer premium products for the best possible price.