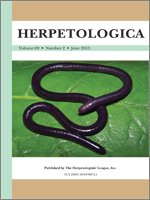 Over the long term, such effects would promote coexistence of decomposer organisms, maintain biodiversity, and stabilize rates of decomposition.
(PRWEB) June 04, 2013
Herpetologica – The Eastern Red-backed Salamander is the most abundant vertebrate predator in forests of eastern North America. Although often hidden from the casual eye, this salamander species has long been hypothesized to play a critical role in the forest ecosystem, because it preys upon invertebrates that participate in the decomposer food web. However, previous research testing this hypothesis has produced confusing and conflicting results. Some findings indicate increased decomposition caused by salamander influence on invertebrate abundance whereas other results show no change in decomposition or abundance.
A 6-year study published in the journal Herpetologica clears up the confusion and clearly demonstrates that the Eastern Red-backed Salamander exerts a "top-down" effect within the decomposer food web, but the effect is mediated by the "bottom-up" effect of litter supply. This is a more subtle role than the one suggested by the original hypothesis, but this role might be especially important for stabilizing forest floor biodiversity and functions.
This study took place within a forested site of the Cuyahoga Valley National Park in Ohio. Thirty open, circular plots with a 1-meter radius were assigned to three different study treatments, either with natural cover of litter and woody debris, or with either one or four artificial cover placements—in this case, ceramic floor tiles that mimicked flat rocks favored by this salamander species.
Twice yearly, in the spring and the fall, the sites were sampled for number and size of salamanders, number and identification of invertebrates, and leaf litter. Over the 6 years of the study, 23,964 invertebrates from 55 taxonomic categories were identified and counted.
In the spring, when the litter layer was thick, invertebrate densities declined in salamander territories, potentially because salamanders spend more time defending their territory in this thick litter and competing with predatory insects and centipedes for prey.
In the autumn, just before major leaf-fall when the litter layer was thinnest, densities of small decomposer invertebrates increased in salamander territories. This increase occurred presumably because territorial defense was made easier by the decreased amount of litter to patrol and salamanders could consume several larger prey species that are most abundant in the fall. Hence, small decomposer organisms, such as springtails and mites, could increase in density because the salamander ate the larger decomposers and reduced competition between them and the smaller decomposers for food.
By preying more heavily on some species in the spring, but other species in the fall, the salamanders might prevent any particular prey type from becoming very abundant or very scarce. Over the long term, such effects would promote coexistence of decomposer organisms, maintain biodiversity, and stabilize rates of decomposition.
Full text of the article "Top-Down Regulation of Litter Invertebrates by a Terrestrial Salamander," Herpetologica, Volume 69, Issue 2, 2013, is available at http://hljournals.org/doi/full/10.1655/HERPETOLOGICA-D-12-00029.
Herpetologica:
Herpetologica is a quarterly journal of The Herpetologists' League, containing original research articles on the biology of amphibians and reptiles. The journal serves herpetologists, biologists, ecologists, conservationists, researchers, and others interested in furthering knowledge of the biology of amphibians and reptiles. To learn more about the society, please visit: http://www.herpetologistsleague.org.