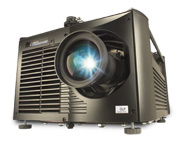 Projection mapping is taking on the world by storm as more venue of attractions and events use projection mapping to create unforgettable experiences for their audiences
Mumbai, India (PRWEB) June 10, 2013
Christie® and its partner, Modern Stage Service, are pleased to showcase a live demo of projection mapping at Palm Expo India May 30 – June 1, 2013. Highlighting the Modern Stage Services' booth #C69 are projection mapping on a flat screen and a pyramid structure using Christie Roadster HD10K-M, Christie Roadster HD18K and Christie Roadster HD20K-J.
Belonging to the Christie's 3-chip DLP® projector series, Christie Roadster HD10K-M, Christie Roadster HD18K and Christie Roadster HD20K-J use light efficiently to ensure brightness uniformity throughout the images that are projected onto irregularly-shaped 'screens' such as buildings, interior spaces and natural landscapes. Embedded with Christie Twist™, the projectors allow users to expertly edge-blend and warp multiple curved images seamlessly on all four sides to almost any projection surface – flat, curved or spherical.
At Palm Expo India, the projection mapping masks the flat screen and pyramid structure to become a dynamic video display of 2D and 3D images that can transform what is reality for the audience into illusions and images of infinite possibilities.
In India, Christie has worked with Modern Stage Services to bring Purana Qila, a 500-year-old Old Fort of the Mughal Empire, to life with a 55-minute multimedia show using projection mapping that depicts Delhi through the history of its 10 cities, beginning from the 11th century to the present.
Christie's projectors are also used in the newly opened Adlabs Imagica, the largest entertainment theme park in India, to empower visitors with close-to-reality experiences.
"Projection mapping is taking on the world by storm as more venue of attractions and events use projection mapping to create unforgettable experiences for their audiences," noted Devendar Wadhwa, Modern Stage Services. "Through our joint exhibit with Christie at Palm Expo, the broadcast, event, post-production and stage specialists in India have a better appreciation of the power of projection mapping."
"Palm Expo is a melting pot of the most creative ideas for the broadcast, event, postproduction and stage industry. We are pleased that the most talented individuals from the industry appreciate Christie's leading edge projection solutions," said Lin Yu, vice president, Christie Asia Pacific. "Christie has been a pioneer when it comes to projection solutions. Globally, the leading rental stagers invest in our products for the reliability and unmatched features."
About Christie®
Christie Digital Systems USA, Inc. a wholly-owned subsidiary of Ushio, Inc., designs, builds and installs customized projection display solutions. Christie® delivers turn-key solutions for sophisticated virtual reality, simulation systems and control room environments including high-resolution power walls, multi-sided immersive environments, curved screen displays, domed simulation and multi-projector arrays. Industries and organizations that rely on Christie range from government agencies to oil and gas, aerospace to entertainment, and manufacturing and design to pharmaceuticals. For more information, visit http://www.christiedigital.com.
For more information contact:
Shawn Tan
Public Relations Manager, Asia Pacific
Phone: + 65 6877 8761
Email: shawn.tan(at)christiedigital(dot)com
Follow Christie at:
Facebook.com/christiedigital
Twitter.com/christiedigital
Christie is a trademark of Christie Digital Systems USA, Inc., registered in the United States of America and certain other countries.
DLP® is a registered trademark of Texas Instruments.