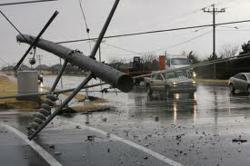 When Disaster Strikes...Strike Back
Baltimore, MD (PRWEB) June 05, 2013
http://www.smsinger.com Most home owners and business think they are prepared because they have insurance. Every year billions of dollars are spent on Emergency Services when natural disasters occur. Home and business owners lose thousands even millions on these events that cause water damage, mold growth and the need for reconstruction. To limit the damage to homes and businesses follow these "Top 10 Action Plan" to be Storm Ready!
Hurricane hazards come in many forms: heavy rain fall, inland flooding and high winds just to name a few. Most essential is that home and business are prepared. Two key points; Prepare for the Storm and go into Action when directed by emergency officials.
1. INSURANCE: Review Insurance Policies, some policies have separate deductibles for various perils, Flood, Wind, Lighting, etc. Flooding requires a separate insurance policy and is a complicated product. For help in this area see a professional insurance agent with a solid reputation.
2. DOCUMENTATION: Take Inventory of valuables, personal property, assets that an individual or company owns. One of the best ways is to take a video of the items. If the item has a model or serial number record it in a secure place.
3. COMMUNICATION PLAN: How will everyone communicate in a chaotic event like a severe storm? Planning and developing a solution ahead of time will eliminate confusion for homeowners and businesses.
4. BASIC EMERGENCY SUPPLY KIT: Water, one gallon of water per day for at least 3 days, food, at least three day supply on perishable food, flashlight with spare batteries, First Aid Kit, Whistle, to signal for help, Dust mask (N95's), Tools, (pliers, wrench , screw drivers, hammer) Manual Can Opener, GPS, if a large storm hits there will not be any road signs, Cell phone with charger, inverter or solar charger, Medication; have enough for at least 3 days
5. WATER DAMAGE: To prevent further damage it is important to start a drying process as soon as possible to prevent mold and microbial growth and potential health risks.
6. EMERGENCY SERVICES
BOARD UP: Pre-cut 3/4 plywood for each window of home and/or business.
TARP: Have several different sizes of tarpes (10X 10, 20 X 20, 50X100, etc) furring strips (1 X 1 inch wood strips), hammer, nails or screw. Roll tarp out over the ridge of the roof and install furring strips around the perimeter of the tarp.
7. TRIMMING: Cut down shrubs and tree branches that could break windows or damage roofing.
8. OBJECTS: Bring objects in from outside that could cause damage from heavy winds, patio furniture and kid's toys often create problems.
9. CLEANING: Clear loose and clogged rain gutters and downspouts.
10. EVACUATION: Learn community evacuation routes, make sure you have a full tank of gas and if you can safely store cans of gas it would be wise.
ServiceMaster by Singer is a full service restoration company serving the Baltimore Washington Metropolitan areas for over a decade. We are a leading restoration company providing Water Remediation, Fire Damage Restoration, Mold Remediation, Complete Construction Services, Storm Damage Restoration, Crime – Trauma Cleaning, Hoarder Cleaning, and Residential and Commercial Cleaning Services.
http://www.smsinger.com
Anne Arundel County: 410-760-0708
Baltimore Metro: 410-563-2600
Catonsville, and Baltimore Metro West: 410-242-0255
Ellicott City, Howard County: 443-977-4376
Owings Mills, Baltimore Metro North West: 410-833-7600
PG County: 301-809-0585
Timonium, Baltimore Metro North: 410-821-1133
Toll Free: 855-5SINGER
__title__ Hurricane Season Is Here]