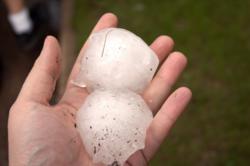 It is important to have the right insurance coverage to protect your home and business from weather related damage like hail.
Colorado Springs, CO (PRWEB) June 01, 2013
Hail season usually begins in late April through the end of August. Josh Noel, Owner of Quality Roofing frequently directs the home owner to look on his Services-Hail page of his website. Displayed are the 10 Signs that you may need a new roof or roof repair may be damaged and in need of a repair or replacement, which are listed from Owens Corning, a national manufacturer of asphalt shingles.
In the last 10 years, hailstorms have caused more than $3 billion insured damage in Colorado. For more information on Hail Statistics in Colorado visit the Rocky Mountain Insurance Information Association. The National Weather Service Forecast Office says hail causes an estimated 1 Billion dollars in damage in the US each year. For information about your city or state contact your local insurance commissioner.
If you need some help in knowing what the appropriate insurance coverage is, visit The National Storm Damage Center's website. Hover over the "Storm Preparation" tab and click on "Getting Insurance' This is an informative and very educational resource for understanding the purchase of insurance coverage.
The largest hail storm recorded in the US was in Vivian, SD on July 23, 2010. The hail measured 8" in diameter and weighed almost 2 lbs.
For more information on hail statists, the Vivian, SD hail storm and the estimated annual damage of hail, visit the National S torm Damage website.