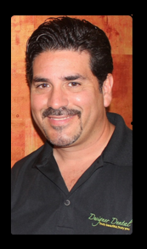 Dr. Vitale does an amazing job with temporary crowns.
Delray Beach, FL (PRWEB) June 03, 2013
Originally from New York, Dr. Vitale moved to the Delray Beach area where his expertise and quality care built a prestigious reputation and made him a sought after dentist. We're excited to include him on the Designer Dental Group team which consists of the most prominent dentists in Delray Beach, Florida. His certification in IV Sedation Dentistry and expertise in Cosmetic Dentistry will be a great benefit for the Designer Dental Group clientele.
Dr. Jerome Vitale, or Jerry as informally called by his friends and frequent clients, is a member of the American Academy of Cosmetic Dentistry that specializes in restoration and surgical procedures of dental implants, dental sedation, dental bonding and other procedures. He learned the basics of dentistry from the University of Pennsylvania School of Medicine and the Montefiore Medical Center is where he completed his residency. Since then, Dr. Vitale has achieved a Masters Level Status in Cosmetic Dentistry. As the newest member of Designer Dental Group, the team will now offer more dental services to Delray Beach residents - especially West Palm Beach dental patients, as well as its neighboring areas, including Boca Raton and Broward.
Former patients of Dr. Vitale will be appreciated and entertained with the same excellent care he provided before. Along with his new team and colleagues, including Dr. Robert Adami, Dr. Darren Pike, and Dr. Andrea Santo, his specializations and expertise will be useful in improving the team's effort.
Designer Dental Group of Delray Beach, FL is a state of the art facility that provides quality services, caring doctors, and most importantly pain free dental care. It is specifically located at 16235 State Rd 7, Delray Beach, Florida between Clint Moore Road and Atlantic Avenue. The dental office offers the latest dental and cosmetic procedures dental implants, veneers, and Invisalign®. With its 25 years of experience in dentistry, patients don't have to worry about anything since the dentists are reputable and treatments are duly certified by FDA.
Lulu Orange Tyson is one of Dr. Adami's patients and stated that she personally loves having dental services with Dr. Adami but, Dr. Vitale did an amazing job with her temporary crown. Likewise, Arlene Sivak Meyers also loves the services of Designer Dental Group and recommends the office to everyone who is in need of help.
#####
For more information just log on to http://painfreedelraydentist.com visit our Facebook page https://www.facebook.com/BestDelrayDentist or call +1 888-647-1894. You can also visit their office at 16235 State Rd 7, Delray Beach, Florida if you have any inquiries.