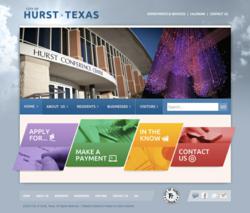 Choosing to team up with Vision Internet meant we would be working with the best. They've created hundreds of award-winning government websites...
Hurst, TX (PRWEB) June 13, 2013
A new website has been launched for the City of Hurst, TX. Accessed at http://www.hursttx.gov, the website has been transformed to better meet the growing online needs of its suburban Texas community.
"Redesigning the City's website had become a necessity," explains the City's Communications Manager, Ashleigh Johnson. "The old site was outdated, disorganized, and difficult to navigate. The technology to update the website was also very cumbersome."
"Our decision to transform the City website couldn't have come at a better time. A more accessible website with easy to use eGov technologies is exactly what we needed to better serve our citizens, local businesses, and visitors."
The website's new dynamic homepage is uniquely modern and progressive, and it provides a great jumping off point to explore the rest of the site. The City's new buildings and resources are proudly displayed within the rotating homepage banners, as are local community events.
Dropdown menus, interior left side navigation, and quick links have drastically improved the site's usability. Social media profiles were even worked into the design, bringing cohesion across the City's many communication platforms.
"Since the launch of this new website we have received a tremendously positive response from our users. Visitors to the site appreciate the simplicity of the homepage and the ease of finding information quickly. "
The complete transformation of the Hurst website was made manageable with the help of Vision Internet, a website development company that specializes in designing engaging government websites.
"Choosing to team up with Vision Internet meant we would be working with the best," continues Johnson. "They've created hundreds of award-winning government websites and provided us with a government content management system that is expertly tailored to meet local government needs."
The new website is packed with a number of interactive Web 2.0 features. Some of these features include:

A dynamic calendar system to readily share Hurst's many community events
An e-Notification System allowing site visitors to register for automatic e-mail updates from the City
Service and Staff Directories conveniently filter staff members and city services for optimum searchability
Interactive GIS Maps provide detailed layouts of the City
Access to online utility and municipal court payments
Responsive mobile design powered by visionMobile™
A number of neighboring Texas cities have partnered with Vision Internet to rebuild their local government website, including the City of Carrollton (cityofcarrollton.com), the City of Grand Prairie (http://www.gptx.org), and the City of Cedar Park (http://www.cedarparktexas.gov).
To learn more about how Vision Internet is helping local Texas governments create innovative government websites, please visit http://www.visioninternet.com/texas.
About Vision Internet:
Vision Internet is the national leader in government website development with more than 500 government, non-profit, and education clients across the US and Canada. Over the past 17 years, Vision Internet has been creating industry-defining websites for communities ranging in populations of less than 1,000 residents to more than 5 million. Widely recognized as the government website experts, the company has earned hundreds of prestigious industry awards for its unique websites.