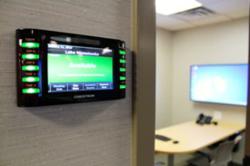 Plymouth, MN (PRWEB) June 04, 2013
Intereum is pleased to announce its newest lineup of great products and services with the addition of an Audio Visual Solutions division. Over the course of the last few years, the workplace has shifted and transformed into an environment that is technology-driven, including the devices people carry to the rooms and offices collaboration and work occur in. Being able to efficiently allow people to connect, engage and confidently use technology has been the forefront objective in Intereum's mission of offering a strong audio visual solution.
From multi-generational dynamics to the intricacies of remodels and new building moves, Intereum is equipped to create appealing and productive spaces for offices, healing and learning environments.The Audio Visual Solutions team is keen on delivering exceptional products and results to clients; from brand-name manufacturers like Samsung, Crestron, Barco, Savant, Cambridge, Sharp, Vaddio, Extron, and Polycom, to name just a few. A variety of solutions are available for sound masking, interactive displays, teleconferencing, digital signage, wireless presentation tools, full room control panels, light and shade control, scheduling interfaces, and more.
Intereum's Plymouth office furniture showroom is a playground of products and ideas to explore. Leading the Audio Visual Team is the duo of Mark Lorenson and Jeremy Schneider. Mark has been with Intereum for 8 years as the lead for IT Services and a trailblazer for technology solutions within Intereum's space. Jeremy joined Intereum with over 17 years of experience working with technology and digital solutions, and both hold certifications from Crestron and other manufacturers. Partnering with Intereum will come with turnkey service, expertise and product knowledge. Visit Intereum's dealership to see the latest audio visual installments, or visit the Advanced Audio Visual Solutions webpage.
About Intereum:
Intereum is Herman Miller's only Certified Dealer in Minnesota and is consistently ranked by Herman Miller as one of its top dealers nationally regarding sales and service excellence, customer satisfaction, and progressive business practices. Intereum has grown to be a top regional choice for office renovation, reconfiguration, or completely new office environments with a comprehensive portfolio of furnishings and ergonomic office furniture.
Contact:
Laura Dauffenbach, Marketing Coordinator
763-417-3404
ldauffenbach(at)intereum(dot)com