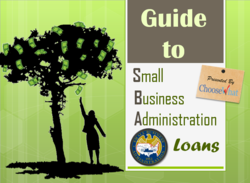 New startups often apply for SBA loans because they are more likely to be approved for these than regular bank loans.
Austin, TX (PRWEB) June 03, 2013
ChooseWhat, the online resource for entrepreneurs and small businesses, released a "Guide to Small Business Administration Loans" to help business owners get an overview of the different types of SBA loans available. Though small business lending has lagged in recent years, loans dispensed through SBA loan programs have seen a notable increase from last year according the SBA's latest data. So far, the 2013 fiscal year has seen over $13 million in SBA loans awarded to startups and small businesses, up $1.4 million from this time last year. This amounts to nearly 1,000 more loans than last year at this time. The uptick in SBA lending is a glimmer of hope for small businesses and the economy, as increased lending has usually signaled an improving economy.
Although many small businesses often turn to SBA loans for the lower interest rates, new startups often apply for SBA loans because they are more likely to be approved for these than regular bank loans. This has been especially true since the economic downturn, as most banks are taking fewer risks by lending to mostly well-established companies. In addition, according to ChooseWhat's entrepreneurial blog CW Highlights, "startups in their infancy are more likely to be approved for microloans than any other SBA loan."
SBA Loans Also Serve Underrepresented Populations in Business
One thing that makes SBA loans unique is that several programs exist specifically to assist certain groups who historically have been underrepresented in business, such as women and minorities. The Small Business Administration provides technical assistance grants to lending intermediaries who then develop business and loan education classes for their clients. Most lending intermediaries that receive these grants are nonprofit community lenders, and though they serve all small business owners regardless of gender or ethnicity, many have additional programs designed to meet the varying needs of these groups.
As Claudia Connor of the Women's Business Center Director at BiGAUSTIN explains:
"The reason the Women's Business Center exists is to equal the playing field for all entrepreneurs by targeting women in underserved communities, including veterans and others who often need another opportunity to become self-sufficient. We provide access to capital information, directing them to micro lenders who look beyond just a credit score, while encouraging them to better prepare or become proactive in reviewing their own credit report."
ChooseWhat's Guide to SBA Loans aims to help entrepreneurs and small businesses determine if an SBA loan is right for their business and direct them to SBA resources in their area. As small business makes a comeback, these resources will be more vital not just to individual businesses, but to the nation as a whole.
More about ChooseWhat.com:
ChooseWhat is a resource website for small business owners and new entrepreneurs. Our website offers an in depth startup guide to walk entrepreneurs through the process of starting their own business. People are often unsure of how to translate a great business idea into a successful project. We provide a simple step-by-step guide for setting up a small business, reviews and cost comparisons for some of the best small business infrastructure tools, and forum for entrepreneurs to get expert advice on their more specific questions or concerns. Learn more at http://www.ChooseWhat.com/.