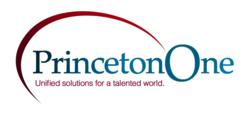 Indianapolis, IN (PRWEB) June 05, 2013
A report released by the Bureau of Labor Statistics in May showed that 11.6 percent of adults 25 years of age or older without a high school diploma are unemployed. This number is shockingly high when compared to the 7.5 percent national unemployment rate and the 7.4 percent unemployment rate of adults 25 years of age or older with only a high school diploma.
Jobs for America's Graduates (JAG) is a school-to-career program implemented in high schools around the nation that encourages youth to complete their high school education and facilitates opportunities to advance their futures. Its mission is to provide "real world," professional learning experiences to students that will lead to career advancement and/or postsecondary education after receiving their high school diplomas.
Recently, members of the Indianapolis office of total recruitment provider PrincetonOne offered their expertise to JAG students from nine local high schools at a career fair hosted by Goodwill Industries' charter school, Indianapolis Metropolitan High School. While at the job fair, PrincetonOne associates conducted resume reviews and mock interviews of the participating juniors and seniors, evaluating their skills and providing feedback when warranted.
JAG Quality Assurance Coordinator Aimbriel Lasley said, "We hope to inspire students to push forward through high school through setting realistic and attainable goals, volunteering in their community and researching their future career paths. Being able to 'sell' yourself professionally through your resume is important and a vital piece to the corporate world. These students took pride in organizing their resumes to prepare for the fair and appreciated the willingness and support they received from the representatives of PrincetonOne during the resume critique session. All of PrincetonOne's employees gave our students specific and detailed information in regards to their resumes and ways to improve their interviewing skill sets. It is a partnership that I hope to continue and grow."
"The JAG job fair was a great event," said PrincetonOne Program Manager Katie Ready. "I think it's incredibly beneficial for high school students to learn the basic principles of resume writing and interviewing, and we were thrilled to lend our services to help further advance their professionalism and prepare them for their future endeavors."
More information about JAG and its programs can be found at http://www.jag.org/.
About PrincetonOne
Headquartered in Skillman, N.J., PrincetonOne is a talent services company that creates and implements innovative solutions for unmet recruitment and retention needs. PrincetonOne provides clients with a cohesive strategy for recruiting, retention, staffing assessment and organizational development. Through a comprehensive suite of services, including executive search, recruitment process outsourcing (RPO) and contract staffing, PrincetonOne delivers unified recruitment solutions and measurable results for more than 1,000 clients around the world. For more information, visit http://www.PrincetonOne.com.