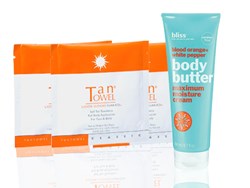 To keep a lasting tan moisturize daily
(PRWEB) June 01, 2013
Summer is around the corner and that means packed beaches and golden bodies. There is no question that obtaining a tan makes people feel skinnier, sexier, and leaves them with a healthy glow. But at what price should people pay to obtain a great tan?
Skin cancer is the most common form of cancer in the United States. According to the skin cancer foundation, more than 3.5 million cases of skin cancer in over two million people are diagnosed annually. Each year there are more new cases of skin cancer than the combined incidence of cancers of the breast, prostate, lung and colon. Not only can the sun cause life-threatening illnesses but also take a huge toll on people's appearance. Baking in the sun makes people age at an alarmingly fast rate. It creates wrinkles, sunspots and completely dries out the skin.
TheBeautyPlace.com offers people a solution for those who want a tan without the harsh side effects of the sun. TanTowel is a self-tanner that tints the body and face without the sun. The TanTowel Full Body Classic pack contains 3 sunless tanning towelettes and is designed for people with fair skin or who are tanning beginners. In addition to the TanTowel Full Body Classic, Tan towel also offers a "plus" version. TanTowel Full Body Plus offers the same easy-to-apply natural-looking glow provided by TanTowel Classic towelettes, but for a deeper tan. This option is perfect for medium to dark skin tones or regular tanners. These easy-to-use towelettes dry in seconds and won't create a mess or discolor elbows, knees and ankles. These towelettes create an even, natural-looking tan within 3 hours. You only need one full body-size towelette to tan your entire body. Apply another sunless tanning towelette after 3 hours to deepen the tan if desired. Use TanTowel Full Body Classic towelettes 2 or 3 times a week to maintain your tan. Check out thebeautyplace.com blog, to help find the right tan towel.
In order to get the optimum results, the experts at TheBeautyPlace.com suggest exfoliating prior to self-tanning. The experts also shared their self –tanning secret, "applying moisturizer daily makes your tan last longer."
Starting of the summer with a great healthy tan makes people feel and look great. With the knowledge of all of the negative effects of the sun, sunless tanners are the perfect alternative joining in on the sun without the risk.