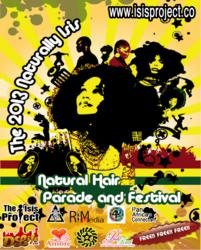 "The Natural Hair Parade and Festival is a celebration of natural hair." - Isis Brantley
Dallas, TX (PRWEB) June 01, 2013
The Natural Hair Parade Festival is the brain child of natural hair pioneer, Isis Brantley. For over 30 years, Isis has continued to be an advocate for economic empowerment and pride in the African American community.
Erykah Badu, a long time friend of Isis, is a sponsor and supporter of the Natural Hair Parade and Festival. This year Erykah has accepted the title of Grand Marshall and will also be the Presenter of the "Swag Award."
This free event will take place on September 7, 2013 in Dallas. It will follow the same route as the Martin Luther King Jr. parade, starting at Lamar and M.L.K Blvd and ending at the Pan African Connection, located at 828 Fourth St. (across from Fair Park Music Hall).
Isis has chosen to have this event around Labor Day to honor the work of re-establishing the beauty standards of African hair in America. The Isis Project is calling for sponsors, schools, churches, community organizations, non-profit organizations, bands, clubs, parents, and children of all ages to join us as we celebrate and share knowledge.
In addition, we are calling the men of the community to step up and contribute to the The Natural Hair Parade and Festival 2013. In order to make the parade a success this year, 200 men need to contribute a small donation of $100. The Isis Project is also looking for men to be actively involved by networking with the community to spread the word about the parade. To make a donation, please log on to http://www.paypal.com and send donations to naturallyisis@yahoo.com be sure to include "Natural Hair Parade Donation" in the message line. The donations will go towards Floats, Banners, Bounce Houses and other necessary items. Women are welcome to donate as well.
The Isis Project is presenting the Natural Hair Parade and Festival to raise awareness of multiple non-profit organizations such as "We are Strong Girls" Alopecia Foundation, Amore Transition Group, Autism For You and The Afiya Center. The mission of T.I.P is to help in assisting communities in various capacity such as counseling, mentoring, vocational training, homelessness, bullying, teenage pregnancy, prevention of sexually transmitted diseases and countless other ills that plague the urban areas of our cities.
About Isis Brantley
Master natural hair stylist and the founder of The Institute of Ancestral Braiding, Isis Brantley has created the first and only natural hair care school in the State of Texas. She has been a vibrant spokesperson for African ancestral culture for over thirty years. Instrumental in changing anti- braiding laws, Isis is now a State licensed educator. To learn more about Isis, visit http://www.naturallyisis.com, like Isis Brantley on Facebook and follow her on Twitter @Naturallyisis.
About Erykah Badu
Erykah Badu, best known for her eccentric style and cerebral music, is a Grammy-award winning American soul singer and songwriter. Regarded as the Queen of Neo Soul, Badu's sound - a concoction of soul, hip-hop and jazz - cannot be contained to a single genre. Self-described as "mother first," Badu is a touring artist, dj, teacher, doula, community activist, holistic healer, vegan, recycler and conscious spirit.
We will also be honored to have in our presence this year Rapper, Record Producer and Entrepreneur Lupe Fiasco.