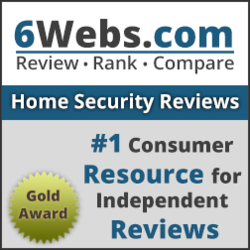 Learn how to select the best home security system at 6Webs.com.
Chapel Hill, NC (PRWEB) June 04, 2013
6Webs.com, the leading provider in independent home security reviews, together with Acorn Home Care Services, the in-home caregivers assisting seniors, release tips on how to purchase the best monitoring services for elderly parents.
According to Tim Smythe, the senior editor from 6Webs.com, "It is important that the elderly have home monitoring services for both home security and medical assistance. Home security companies that offer a pendant for homeowners to carry on themselves, along with two-way monitoring services make the best fit. Two-way monitoring enables a homeowner to speak with the monitoring professional on the other end by simply pressing a button on their pendant. This is especially important with the elderly as they do not have to be by the control panel to call for help."
One of the tips mentioned in educational resource to select the best home monitoring service for the elderly is viewing the company's Better Business Bureau (BBB) ratings. A quick look at the BBB can reveal if the company is accredited with the BBB and what type of rating they carry. Companies are rated on a scale of A+ to F.
To view the tips sheet on how to select the best home monitoring services for the elderly visit Acorn Home Care Services' resources blog at:
http://acornhomecareservices.com/what-is-the-best-home-security-system-for-my-parents/.
About 6Webs.com:
6Webs.com provides annual reviews of dozens of home security monitoring companies and publishes the results online. 6Webs.com's side-by-side comparisons and in-depth reviews give consumers the information they need in order to purchase the best home security system for their family. Additionally, 6Webs.com publishes educational information such as tips and suggestions to help families lead a safer and more secure lifestyle.
About Acorn Home Care Service, Inc.:
Acorn Home Care Services, Inc., headquartered in Chapel Hill, NC, specializes in customized, in-home care to assist the elderly. Acorn's compassionate caregivers provide dementia and Alzheimer's care, personal care, transportation, home making and companion care. Acorn's goal is to provide peace of mind through their highly-qualified and thoroughly screened home care providers.