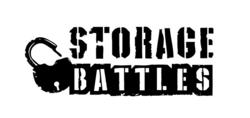 This represents an opportunity to introduce traditional storage auction attendees to the emerging channel of Internet storage auctions.
Phoenix, AZ (PRWEB) June 04, 2013
StorageBattles.com is pleased to announce a groundbreaking new storage auction partnership with StorageUnitAuctionList.com. The partnership will allow online auctions listed on StorageBattles.com to be viewed by Storage Unit Auction List subscribers along with the on-site auctions provided on its website. This integrated list of online and on-site lien sales will provide users with the most extensive list of self-storage auctions available anywhere in the United States.
"We are excited about our new partnership with StorageUnitAuctionList.com, a cutting-edge company that understands the technological benefits of online auctions and our overall acceptance in this industry," says Jim Grant, CEO of StorageBattles.com. "This represents an opportunity to introduce traditional storage auction attendees to the emerging channel of Internet storage auctions."
Ryan Beierlein, Vice President of Operations at Storage Unit Auction List, adds, "Our goal is to give each of our loyal subscriber's access to more storage auctions than any other website, allowing them to win more units and make more money. This partnership is a huge win for our users."
StorageBattles.com is the largest and fastest-growing online storage auction company, with over 3,500 facilities and 250,000 buyers registered with the site. "Our auction solution provides a consistent and reliable process in an expedited manner that maximizes earnings and reduces operating expenses for self-storage facilities, and allows facilities to rent units quicker," says Grant. "With many years of operating experience in the diverse storage industry, StorageBattles.com can better understand our customers' needs and the unique auctioning process."
A recent poll by the Self Storage Association indicates that the national average of loss recovery for storage facilities is only 50 percent. Utilizing the latest available technology, StorageBattles.com recovers an average of 117 percent, while virtually eliminating the facility cost of holding an auction. "Today the online auction process outweighs the benefits of traditional on-site auctions not only in terms of additional loss recovery but also as a means of reducing operational expenses," says Grant.
For information regarding the online auction process, please visit http://www.storagebattles.com.
About StorageBattles.com
StorageBattles.com is a web portal that allows storage facilities to post their auctions online, thereby eliminating live auctions entirely. Created by Self Storage Association members who have been in the storage business for more than 30 years, the company was established to create a more efficient way of holding lien sales and to alleviate the frustration that came from holding live auctions on site at self-storage facilities. StorageBattles.com now attracts buyers online while maintaining seller confidence and ease of use.
About Storage Unit Auction List
Storage Unit Auction List offers the largest listing of storage auction information online. Each month, the company provides information on over 10,000 auctions to tens of thousands of paid subscribers. Since their founding in 2011, StorageUnitAuctionList.com has provided information on over 250,000 storage auctions and over a million individual units.