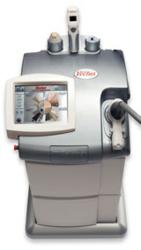 The main difference which sets us apart from other spas, is that New You Spa will give clients 5 years guarantee for our laser hair removal! says Jeff Nourse manager of New You Spa
Toronto, CA (PRWEB) June 05, 2013
Vectus™ Laser from Palomar, featuring the largest spot size and most uniform beam profile available today, allows to quickly treat unwanted hair, even in the largest areas such as a back, in less than five minutes.
New You Spa's breakthrough laser technology can get rid of unwanted hair quickly, easily and with proven five year guarantee. "The Vectus™ Laser features the integrated Skintel™ Melanin Reader™, the only FDA-cleared melanin reader, helping us to more safely offer optimized hair removal treatments tailored to each of our client's skin type, lifestyle, and ethnicity," says the New You manager Jeff Nourse.
Sapphire treatment tips with Advanced Contact Cooling help protect the epidermis and help keep clients comfortable throughout treatment, while Photon RecyclingSM and the uniform beam profile allow for the most thorough coagulation of hair follicles – reducing the need for multiple, overlapping passes.
For more information on the Vectus™ Laser packages or cost, please visit http://www.newyouspas.com or call to book your complimentary consultation at
416-487-7848.
About New You Spa
New You Spa is a successful and growing provider of med spa services with 6 centers throughout GTA. Each New You Spa location offers services for men, women, and teens of all skin types, including laser hair removal, skin rejuvenation, Botox® Cosmetic and dermal fillers, fractional laser resurfacing, Vela shape body contouring and teeth whitening, as well as, treatment protocols for acne, vein treatments and skin tightening. All treatments at New You Spa are performed by licensed aestheticians, certified laser technicians and registered nurses, and are supervised by the clinics' medical director.