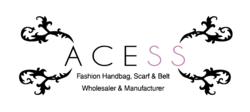 Acess -- Leading UK Fashion Handbags and Ladies Fashion Accessories Wholesaler and Importer -- Established 2008
Birmingham, West Midlands (PRWEB UK) 8 June 2013
When everyone thought that fashion handbags' price could not get any cheaper, Acess came out to prove them wrong! They took the fresh sales concept to a whole new level, providing women with the service they want, when they want it and how they want it, placing them firmly at the heart of everything they do supplying them with the latest collection of wholesale handbags with the cheapest rate ever and the fastest shipment they could ever have.
Acess UK have made wholesale products available for the traders all over the world simply by shopping directly from their website. They offer a huge stock of fashionable products available on the website that differ not only in colour, but also in size, shape, and style. It is not only limited to wholesale handbags, but scarves and jewellery as well. They also offer their customers great sales and deals varying from time to time that might reach up to 40% off the original price.
Acess UK is a leading fashion handbags, scarves and jewellery wholesale Supplier with key design features in its core design. The Head office and warehouse are based in Birmingham UK. They distribute a huge range of ladies accessories to all traders, independent retailers, chain stores and department stores within UK and Europe. This is besides having a local sales office in Manchester UK and Dublin Ireland.
Knowing how bad it could get when ordering online and how late orders could reach the customers, Acess made it easier for their clients by offering 24/7 shopping to suit their busy schedule and prompt customer service by email , phone and live chat. Through purchasing online, all orders are dispatched on the same day for next business day delivery. They also offer free shipping to any customer living in the UK on any order over £150 along with low shipping costs for customers all over Europe.
The service is not only limited to wholesale customers but they also offer drop-shipping service to e commerce and party planners who can't afford to hold too much stock but would like to offer a range of products to their clients. Customers can choose one of the available drop-ship memberships to suit their business model.
Acess has their own factory to fulfill manufacturing orders as they can manufacture all sorts of PU handbags, evening bags, and costume jewellery with a low minimum order of 300 pcs per style in different colours giving clients a unique service of manufacturing their own customized designs simply by sending them their order's details and they respond with a price quotation.
For more information please visit http://www.acess.co.uk and find out more about the latest offers and discounts.