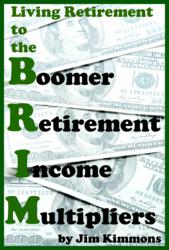 Borrow or get this book at no cost. See details at the end of this release.
Taos, NM (PRWEB) June 03, 2013
Boomer Retirement Income Multipliers is a new eBook by Baby Boomer Jim Kimmons to help other Boomers (or people soon to be retired) to increase their income while maintaining lifestyle freedom.
Jim is entering retirement with an income shortfall from normal retirement and Social Security sources. His many books as a freelance writer and ghost writer for gurus and experts in real estate investment, Internet marketing and Web freelancing give him unique insight into how to make money with little or no overhead and from anywhere a retiree wants to live or travel.
There are three sections in the Book: Consulting and Freelancing; Internet Marketing; and Real Estate Investing. The resources, specific instructions and income opportunities are varied and suitable for anyone who wants to make money in a part-time business without costly overhead or high start-up costs. There are even online income opportunity tutorials for selling craft items or having out-sourced production of craft and gift items with no inventory or production expense for the retiree.
The Boomer age group is by nature skeptical of "get-rich-quick" and "easy money" schemes, and this author has been the victim of a few himself. The methods and businesses in this book are not scams, though all of them aren't for everyone. The value to the reader is in the variety of different ways Jim shares to make money, and the fact that many require no cash investment, simply a computer and Internet access. Whether the reader has some cash or retirement funds to invest in real estate, or they simply want to start making money with their computer, almost everyone can be successful with one or more of the strategies in this eBook.
Marketing past experience, knowledge, hobbies or skills as a consultant or freelancer is suitable for many people. There are also easy to start businesses using specialized knowledge to sell on the Web, with dozens of very detailed business tutorials in this book. Comments from readers indicate that the book material helped them to evaluate their knowledge and skills in a way that made certain income opportunities real for them.
Some of this book was written while Jim enjoyed RV camping in the mountains, and he helps the reader to evaluate their past job experience, career, and even their hobbies to leverage their expertise for income no matter where they choose to spend their time. Test readers reported that they were able to begin to generate income within weeks, and do it when and where they chose.
Real estate investment is covered in detail, including getting started without a cash investment. Many who have significant funds in retirement accounts can learn how to invest in real estate in self-directed IRA or 401k accounts with much higher returns. Jim is also a real estate broker and the Real Estate Business Guide at About.com, so there is specialized knowledge about the way real estate agents and brokers do business, and how to work with them as an investor.
A tight budget shouldn't discourage anyone from getting this eBook. Marketed through Amazon, those with Kindle devices can borrow it at no charge. There will also be 5 days in every 90 day period when it will be offered for download free of charge. The first five days set up at the time of this release are:
1. Get this book free on June 10th or June 11th, 2013.
2. Boomer Independence No Cost Promo on July 3rd or July 4th, 2013.
3. Get a free copy today on August 3rd, 2013.
For those approaching retirement or already there, this book can create fun money or serious income.