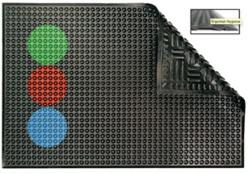 "We were constantly looking for new employees before we bought the ergonomic mats. Since getting the mats, not one employee has called in with back issues from standing all day."
Lake Oswego, OR (PRWEB) June 03, 2013
Stress and fatigue are two of the major contributors to decreased employee productivity and increased disability. Employees of food and health industries are on their feet all day and every day servicing customers and patients. Creative Safety Supply is now offering Ergomat Nitril Hygiene mats that will help employees feel better and improve quality when they are standing.
These ergonomic mats are wonderful additions to any food industry or laboratory facility because they are specifically designed to be easily cleaned and sanitized on a daily basis. They are the perfect solution for safety in environments that require caustic sterilization or disinfectant rotation such as operating rooms. Cleanliness and sanitation is critical in the food and health industry and these mats are durable enough to withstand daily cleaning and still look like new for many years.
The mats are available in four colors (Green, Grey, Blue, and Red) to accent or blend in with any type of flooring. The ergonomic design helps prevent common ailments from extended standing and meets USDA/CFIA standards along with Cleanroom Class 5 (100). Another feature is that they are silicone and latex-free.
Millions of dollars are spent on disability and workers compensation due to injuries on the job. Preventative action is as simple as providing proper equipment for the workplace that will improve employee's quality of health and productivity. Workers who miss work due to job injuries, cause less productivity and increased costs that may result from replacing and training new employees.
A manager of a food chain commented, "We were constantly looking for new employees before we bought the ergonomic mats. Since getting the mats, not one employee has called in with back issues from standing all day."
For more information about Ergomat Nitril Hygiene work mats, please visit http://www.creativesafetysupply.com/Ergomats or call toll-free (866)777-1360 to speak with a professional representative.