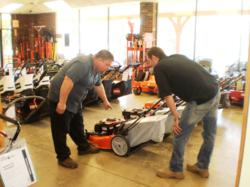 Safety is the number one priority when using a lawn mower.
Chesterland, Ohio (PRWEB) June 01, 2013
The school year is about to come to a close and thousands of children across the country will have a chore of mowing the lawn. Marshall Power Equipment stresses that safety is a priority when mowing. Mowing the lawn is second nature to most people but many national medical organizations are warning families that the routine task can be extremely dangerous to children, the operator, and those nearby if safety precautions are not taken.
According to the Consumer Product Safety Commission (CPSC), in 2012 more than 234,000 people were treated for lawn mower related injuries in a clinic or emergency department, or were admitted to the hospital. More than 17,900 of them are children under age 18, and approximately one-third of lawn mower-related injuries are serious enough to be treated in an emergency department.
Lawn mower injury prevention tips include:

Only use a mower with a control that stops the mower blade from moving if the handle is let go.
Children should be at least 12 years of age before operating a push lawn mower, and age 16 to operate a driving lawn mower.
Make sure that sturdy shoes (not sandals or sneakers) are worn while mowing.
Prevent injuries from flying objects, such as stones or toys, by picking up objects from the lawn before mowing begins. Have anyone who uses a mower or is in the vicinity to wear polycarbonate protective eyewear at all times.
Always turn off the mower and wait for the blades to stop completely before removing the grass catcher, unclogging the discharge chute, inspecting or repairing lawn mower equipment or crossing gravel paths, roads, or other areas.
Use a stick or broom handle (not your hands or feet) to remove debris in lawn mowers.
Do not allow children to ride as passengers on ride-on mowers and keep children out of the yard while mowing.
Keep lawn mowers in good working order. When using a lawn mower for the first time in a season, have it serviced to ensure that it is working correctly.
Over the long winter months forgetting proper use of your mower may occur. Marshall Power Equipment has a knowledgeable staff that will demonstrate proper use and will go over seasonal maintenance. Seasonal maintenance is very important in making sure that the mower is working like it was designed to. Marshall Power Equipment encourages consumers to stop in and go over proper use of the mower and all outdoor power equipment.
Established in 1954, Marshall Power Equipment continues to be Northeast Ohio's headquarters for outdoor power equipment. Marshall Power Equipment offers new equipment, such as Stihl, Echo, Toro, Gravely and Exmark Mowers. Family-owned and -operated, Marshall Power Equipment provides the best brands and second-to-none top notch service that is hard to find these days. The Marshall people will continue to strive, pushing ourselves to make customers and service our "number one" priority into our next anniversary of 60 years, 2014. Make sure to like Marshall Power Equipment on for your chance to win a $50 gift certificate.