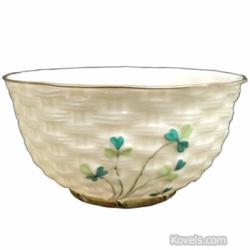 (PRWEB) June 03, 2013
The Kovels.com Top 20 list indicates the current interests of collectors who visit the website. During May 2013 antique enthusiasts were busy researching:
1. Bottle
2. Occupied Japan
3. Fenton Glass
4. Coca-Cola
5. Capo-di-Monte
6. Stove
7. Bavaria
8. Dresden
9. McCoy Pottery
10. Hull
11. Red Wing
12. Copeland Spode
13. Goebel
14. Bank
15. Pepsi Cola
16. Collector Plate
17. Pressed Glass
18. Furniture
19. Belleek
20. Scale
Two new collectible interests—Belleek (No. 19) and scale (No. 20)—have climbed into May's Top 20 list. Belleek is a light and delicate porcelain with a creamy yellow, sometimes pearly, glaze. It was first made in Ireland in 1857. Several American companies—Ott & Brewer, Ceramic Art Co., Lenox, Willets and others—made a similar eggshell porcelain marked Belleek in the late 1800s and early 1900s. After 1930 the word "Belleek " was no longer used on American wares. It's now used only on pieces made in Ireland. Irish Belleek is easy to date. The marks changed through the years. The differences are explained at Kovels.com. This 4 1/2-inch Shamrock bowl has the Belleek black "2nd mark," which dates from 1891 to 1926. The bowl sells for $400 in an online shop.
Two auctions in April 2013 featured scales from the common to the scientific. Vintage scales are highly collectible, affordable and easy to display. Collectors search for hanging scales, postal scales, weight scales and balance scales. Antique grocery scales are hot, as are coin-operated floor scales that recorded weight and stood in front of drugstores.
Collectors who search Kovels.com always want to know more about descriptions, marks and prices. Kovels.com and the book, "Kovels' Antiques and Collectibles Price Guide," list thousands of current prices in hundreds of categories that are carefully selected and edited.
About Kovels.com
The online website, Kovels.com, created by Terry Kovel and Kim Kovel, provides collectors and researchers with up-to-date and accurate information on antiques and collectibles. Kovels' Antiques was founded in 1953 by Terry Kovel and her late husband, Ralph. Since then, Kovels' Antiques has continually published some of America's most popular books and articles about antiques, including the best-selling "Kovels' Antiques and Collectibles Price Guide," now in its 45th edition. The Kovels' website, online since 1998, and free weekly email, "Kovels Komments," give readers a bird's-eye view of the market through up-to-date news, auction reports, an online Price Guide, a Marks Dictionary, readers' questions with Kovels' answers and much more.
Contact info:
Liz Lillis
216.752.2252
Pr(at)kovels(dot)com