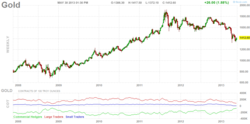 New York, NY (PRWEB) June 01, 2013
The US Dollar is suffering its worst week in two years since July 2011, reports Reuters. On the contrary, gold and silver have had impressive gains today, acting as the safe haven to fiat currency that they are considered to be, as
As can be seen in the image, commercial hedgers are at their least short position since 2009, when gold began a triumphant run to $1,920.
Since then, the metal has faced headwinds, but today is an exception.
Reuters contended in reports that, despite the drop in the USD index of about 2%, the USD uptrend remained intact. The dollar was down across all indexes, for people are extricating themselves of "positions across the board."
Gold, silver and bitcoin have all had impressive days, and for that reason, GoldSilverBitcoin is offering 1 oz rounds at a steep discount in quantities above 500 ounces for US Dollar. Call today to learn more.