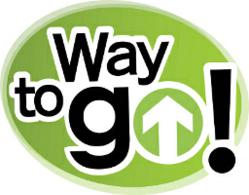 This challenge continues to grow and we partnered with more businesses and communities than ever before.
Burlington, VT (PRWEB) June 03, 2013
If you found a new way to travel during the week of May 13-17th, you were in good company. It was a banner year for the Way to Go! Commuter Challenge, which promotes alternatives to driving to work alone. Helped along by a gorgeous stretch of weather and an increasing array of accessible and economical transportation options including Zimride, the state's new carpool matching system, Way to Go! drew thousands of Vermonters to find new ways of taking on their commutes. All told, 4,640 residents of Vermont, New Hampshire, New York, and Massachusetts participated in the Challenge this year, representing 220 businesses and 13 schools.
Organizers have crunched the numbers, and the results are in on the businesses and organizations with some of the states' savviest commuters:
Large Business (100+ employees)
Winner: The Student Conservation Association (Charlestown, NH)
Runner-up: Burton Snowboards (Burlington, VT)
Medium Business (20-99 employees)
Winner: AllEarth Renewables (Williston, VT)
Runner-up: ECHO Lake Aquarium and Science Center (Burlington, VT)
Small Business (less than 20 employees)
Winner: Vermont Sustainable Jobs Fund (Montpelier, VT)
Zimride Challenge (most employees signed up for Zimride carpool matching system)
Winner: Fletcher Allen Healthcare (Burlington, VT)
Community Challenge (highest resident participation rate)
Winner: City of Burlington, VT
School Challenge (highest student participation rate)
Winner: Waitsfield Elementary
Runner-up: Moretown School
Second Runner-up: Edmunds Elementary (Burlington, VT), which had the largest overall number of clean commuting students.
In Waitsfield, both students and staff at the Elementary school embraced the Way to Go! challenge with enthusiasm, and it showed in their impressive 77.2% participation rate. "Now that the challenge week is over, I'm happy to report that we still have many students walking and riding to school," notes Principal Kaiya Korb. "They are glad to be helping the environment, but mostly they are excited for the freedom of having two wheels beneath them, the morning sun upon them and the opportunity to incorporate some pure joy into their morning commute."
Winners will each be presented with a prestigious "Carbon Cup" trophy in recognition of their impressive showing in the Way to Go! Commuter Challenge at an awards ceremony at the Vermont Statehouse on June 26th.
"It was a great year for the Way to Go! Commuter Challenge," said Ross MacDonald, Go Vermont Program Manager at the Vermont Agency of Transportation. "This challenge continues to grow and we partnered with more businesses and communities than ever before. Events like these really complement the Go Vermont program, where people can get information on efficient transportation options and activities throughout the year."
"We were really pleased to see so much enthusiasm for this year's challenge," said Carol Weston of the Vermont Energy Investment Corporation, a lead organizer of the challenge. "We are hoping that participants can take their newfound awareness of transportation options and make use of it year-round. They'll end up with more money in the pockets – and reduce congestion on the roads for everyone, as we gear up for the next Way to Go! Commuter Challenge."
For more information on Way to Go!, and results from past years, please visit waytogovt.org.