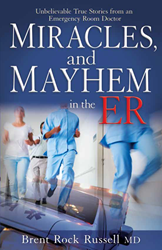 "Unbelievable True Stories from an Emergency Room Doctor"
Boise, ID (PRWEB) June 26, 2013
Young and old face life or death in the ER. Contemplative and oftentimes hilarious, Dr. Russell in his Miracles and Mayhem, leads the reader through the glass doors and down the narrow halls of the ER where desperate patients come to get well.
Released in April 2013, Miracles and Mayhem will have readers holding their breath one second then celebrating the next as they experience the stories of the ER.
"Being an ER doctor is like escorting patients in wheelchairs across an ice pond --twenty a day. When the day is done, and none have fallen through, we can breathe a sigh of relief, at lease until the next day," said Dr. Russell of his life in the ER.
Author Dr. Brent Russell is a board certified emergency room doctor, living and working in Sun Valley, Idaho. He graduated from the University of Alabama Birmingham's School of Medicine and studied emergency medicine at Oregon Health and Science University. With over 15 years of emergency room experience, Brent Russell has witnessed what most can only imagine.