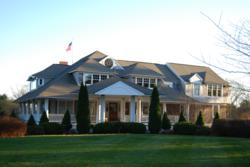 This one of a kind property is defined in many ways by its history.
Portsmouth, NH (PRWEB) June 03, 2013
Olde Port Properties of Portsmouth, NH, a leader in coastal real estate, announced the exclusive listing for sale of this spectacular custom designed home on the rockbound coast of Maine.
Located in the York Cliffs historic district on Agamenticus Avenue in Cape Neddick, Maine, every detail of The Cottage at Passaconaway respects the vernacular and history that makes it a sought-after location while offering privacy, unparalleled scenery and lasting design. Cape Neddick is part of York in south western Maine.
Full of pleasant surprises, this home, built on the foundations of the historic late nineteenth century Grand Passaconaway Inn, was a destination for generations of East Coast vacationers. The property has a deed dating to 1644 when, in the very early years of immigration to America, King Charles I of England granted land Patents to Peter Wyre (Weare) and John Gouch who at that time were two of the earliest settlers.
In 1893, the Grand Passaconaway Inn was built as the center piece of a coastal resort which included one of the 1st links golf courses in America, a six story elevator, a bowling alley, electric lights (a few years later), and a private beach for residents. It was then called by some the "Newport (RI) of the North." Even to this day the descendants of Peter Weare continue to live in York Cliffs.
This subtle but grand shingle-style home, with its curved drive, Porte Cochère and soaring openness within, compels and enlightens while exemplifying today's open and welcoming style of living. From its highpoint on the coast it overlooks the Bay of Maine and Cape Neddick Bay, while the interior design provides 'spheres of living' rather than spaces that confine. "This one of a kind property is defined in many ways by its history" says Cori McGrath of Olde Port Properties. And she adds, "the design of this home fits perfectly the vernacular of York Cliffs and it is difficult to capture the feel of the home just by viewing the photos. It's simple luxuries, thoughtful features, and brilliant appeal make it a unique place to call home and a perfect vacation compound." The main entry transitions to a rotunda soaring 3 stories to a loft studio that seems to magically float in the space above.
The home offers three suites of living for a total of 7200sf., five bedrooms, 6 bathrooms, 3000sf. of mahogany decks and porches, a path to the private beach and access to a boat mooring in Cape Neddick Bay. Unique aspects include a loft design studio/art room with its private deck, a theater, and wine cave. The finishing details throughout were crafted by local Maine and New Hampshire craftsmen.
Learn more by visiting http://www.thecottageatpassaconaway.com.