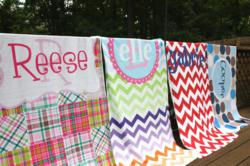 St. Louis, MO (PRWEB) June 14, 2013
Just in time for the summer, Pic the Gift is proud to release their brand new, fully customizable, premium quality beach towels. Yes, one can get a beach towel almost anywhere, but no other place offers the customization options and capabilities that Pic the Gift does. Not only do they offer virtually unlimited creativity when it comes to designing the towels, but they will see to it personally that customers get the desired result that they want. Kind of close doesn't cut it at Pic the Gift; they want to provide customers with the exact product as they are picturing it in their heads.
When designing a towel, Pic the Gift provides customers with the ability to choose any photo, image, or design that they wish for one or both sides of the towel. Customers can also choose to put together a photo collage consisting of multiple images. Once the images are chosen, customers can then choose the background color they would like and whether or not they want their images outlined with a border. The towel comes in a 30"x60" size, so there is plenty of room for imagination and creativity!
Pic the Gift's fully customizable beach towels are made with a very soft, yet absorbent material. They are 100% made in the United States and make a great fit for not only summer activities and trips to the beach, but also in the winter months to keep warm, or even to hang up on a wall due to their sentimental value. One can go elsewhere to buy a beach towel, but nowhere else will you find a company that is fully committed to providing customers with the exact product they want while also adding sentimental value to it. Pic the Gift's partners at You Name It Designs also help make this process quick and easy.
With well over 50 years of experience in the distribution and manufacturing of personalized gifts, Pic The Gift was established to meet the rising demand for personalized products and photo gifts. Strategically placing their manufacturing facility in the heart of the Midwest, specifically in St. Louis, Missouri, enables Pic The Gift to offer expedited delivery service to each of their clients. All products ship anywhere in the United States in less than four days.
All of PicTheGift's manufacturing is done in the United States, under their own roof, and with strict quality standards. While some of the raw material is imported, be assured that 100 percent of their manufacturing is done in the United States and Pic The Gift is doing everything in their power to keep jobs here in America.
Pic the Gift is proud to offer these customizable products both for personal use and as gifts. For more information on Pic The Gift's Personalized Photo Beach Towel and other personalized gifts, visit http://www.picthegift.com/ or contact 888-407-5008.