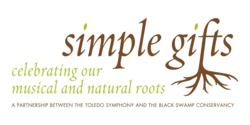 I applaud the Toledo Symphony for pursing this innovative partnership with the Black Swamp Conservancy
Toledo, Ohio (PRWEB) June 04, 2013
The Toledo Symphony together with the Black Swamp Conservancy announces a joint initiative called "Simple Gifts: Celebrating Our Musical and Natural Roots."
The Simple Gifts project is made possible by a grant from the National Endowment for the Arts.
Simple Gifts: Celebrating our Musical and Natural Roots is a collaborative project between the Toledo Symphony Orchestra (TSO) and Black Swamp Conservancy (Conservancy), a land trust dedicated to protecting agricultural land and natural areas in Northwest Ohio. The two organizations are partnering during a celebratory time to create awareness of the many musical and natural "gifts" in the region; the Conservancy is celebrating its 20th anniversary—the TSO is celebrating its 70th.
"The inspiration for this project is capturing the sound of our Midwestern home," says Toledo Symphony President and CEO Kathleen Carroll, "There is no greater pursuit for a symphony orchestra."
TSO ensembles will perform four seasonally-themed concerts in rural community locations selected in collaboration with Black Swamp Conservancy. Two performances of a newly commissioned work by Evan Chambers—inspired by the performances and locations of the seasonal concerts—for the TSO chamber orchestra will complete the project in September 2014 (at Goll Homestead in Archbold and the TSO Chamber Series opening weekend). Each concert will be a unique event, inviting the audience to experience a beautiful natural setting that enhances specially-curated musical works.
"Connecting people to the landscape is an essential part of our work," remarked Tom Reed, Conservancy board president. "We are so pleased to be a part of this project, which will engage the public with the lands we protect in a unique and inspiring way."
Tickets to the first concert in the series (June 23rd at the 577 Foundation in Perrysburg) are free and available to the public by calling the TSO box office at 419-246-8000. Seating is limited, so interested audience members should call soon. Tickets are required for admittance.
Five of the six performances presented through Simple Gifts will be free to the public, but reservations will be required through the TSO box office. The final performance at the Toledo Symphony's season opener Chamber Series event at the Toledo Club in fall 2014 will feature the commissioned work by regional composer and environmental conservation enthusiast Evan Chambers.
Says Chambers, "I have been very interested in finding ways to build working relationships between classical music and environmental institutions. As a composer who is deeply concerned with profoundly local environmental issues as well as global climate change, and someone whose music is often very much inspired by my home landscape, I was very excited by the opportunity to pursue a project that would connect composition with environmental activism and a love of place. I've pursued similar partnerships with organizations in Southeastern Michigan, and so reconnecting with the lands and waters of Northwest Ohio, where I spent much of my young adulthood is a wonderful opportunity. I applaud the Toledo Symphony for pursuing this innovative partnership with the Black Swamp Conservancy!"
The First Simple Gifts Program Concert – June 23, 2013 - 2PM
The TSO String Quartet will launch the project with a concert performed in June 2013 at the 577 Foundation, a 12-acre property located on the banks of the Maumee River in Perrysburg. This location has special significance, as it was the first parcel of land to be placed under a conservation easement by the Black Swamp Conservancy. The inaugural program will highlight two composers with significant local ties. Works by two distinguished graduates of Bowling Green State University will be featured: Jennifer Higdon's "Amazing Grace" and Evan Chambers' "Three Memories." The program will be rounded out by works by Dvořák and Ungar. The lone non-American composer on the program, Antonín Dvořák, inspired a generation of American composers with his "New World Symphony" and his "American Quartet".
Other Project Locations –Tiffin, Fremont & Archbold
All Simple Gifts concerts are not only connected to a sense of place through stunning natural settings, but also by pieces of music that are connected to the changing seasons of the year.
Dates are as follows:
o June 23, 2013 @ 577 Foundation in Perrysburg: String Quartet
o September 8, 2013 @ Location TBA: Woodwind Quintet
o March 2, 2014 @ Sisters of St. Francis in Tiffin: Brass Quintet
o May 2014 (date TBA) @ Peninsular Farms in Fremont: Chamber Orchestra
o September 7, 2014 @ Goll Homestead in Archbold; Premier of commissioned piece by chamber orchestra
o September 14, 2014 @ TSO Chamber Series
The Toledo Symphony
With roots as early as 1838, the Symphony sees itself as the musical heart of Northwest Ohio, supporting Neighborhood and Regional Concerts, a School of Music and three youth orchestras in addition to traditional concert offerings (Classics, Pops, Family, Mozart & More and Chamber).
For more information, visit http://www.ToledoSymphony.com.
About Black Swamp Conservancy
Black Swamp Conservancy is a land trust dedicated to protecting agricultural land and natural areas, now and for future generations, through land conservation agreements. The conservancy does this to preserve the rural heritage, unique natural habitats, and lakes and streams of northwest Ohio.
By protecting the region's valuable land and water resources, the conservancy hopes to create healthier communities with strong, sustainable economies including agriculture and ecotourism.
For more information, visit http://www.blackswamp.org.