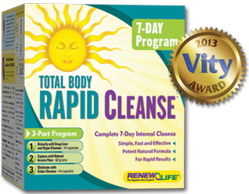 We are so pleased to accept this Vity Award in one of the categories that is most important to us--Fiber and Internal Cleansing.
Clearwater, FL (PRWEB) June 03, 2013
Total Body RAPID Cleanse Recognized for Supplement Excellence
Vitamin Retailer, the dietary supplement industry's leading trade magazine, presents its prestigious Vity Awards each year to supplements selected from retailers' shelves as premium quality bestsellers through a nationwide retailer survey.
"We are so pleased to accept this Vity Award in one of the categories that is most important to ReNew Life—the Fiber/Internal Cleansing Supplement category. Our 7-Day Total-Body RAPID Cleanse is a comprehensive formula that has proved effective and popular with those wanting a deep-acting, total-body cleanse in less time than a traditional cleanse," said Brenda Watson, President of ReNew Life Formulas and national PBS digestive educator.
Total Body RAPID Cleanse is a 7-day, deep-acting, total-body cleansing program, consisting of three parts to be taken daily during the 7-day period:
Part 1—Detoxify with Deep Liver and Organ Cleanse
Herbal extracts, amino acids and vitamin C provide powerful antioxidant and deep-cleansing support for the lungs, lymphatic system, kidneys, skin and blood, with specific ingredients to promote healthy liver detoxification.
Part 2—Capture with Natural Acacia Fiber
Eight grams of clear-mixing, soluble acacia fiber help bind with toxins in the digestive tract to assist with their removal from the body.
Part 3—Eliminate with Colon Cleanse
The mineral magnesium hydroxide is included to help hydrate the bowel as well as cape aloe and rhubarb to promote healthy elimination. Triphala, marshmallow and slippery elm help soothe and comfort the bowel during cleansing.
Total Body RAPID Cleanse is a popular favorite among health food store shoppers for several reasons:

Simple, fast and effective total body internal cleanse
Rapid results in just 7-days
Great cleanse before going on a weight loss program
Potent formula for deep-cleansing liver & organ support
Helps eliminate toxins and improve digestion
Colon cleanse promotes regularity
Soy-free, gluten-free
No artificial ingredients, fillers or binders
ReNew Life thanks Vitamin Retailer for making this very distinctive award possible. A complete list of the 2013 Vity Award winners will be featured in the upcoming Vitamin Retailer June issue.
Total Body RAPID Cleanse Complete 7-Day Internal Cleanse is sold in natural health food stores and fine retailers everywhere.
About Renew Life
Named America's No. 1 Digestive Care and Cleansing Company by SPINS, ReNew Life Formulas was founded in 1997 by Brenda and Stan Watson and offers a full spectrum of natural digestive care supplements, fish oils and functional foods. Each ReNew Life product is made from only the finest raw ingredients. The company's analysis, educational materials, customer service and superior manufacturing practices all set the benchmark for others in the industry. Above all, ReNew Life is dedicated to helping their customers achieve and maintain optimal health, increase energy and enhance their mental clarity.
For additional information on ReNew Life's Total Body RAPID Cleanse Complete 7-Day Internal Cleanse, please contact bcooper(at)renewlife(dot)com.