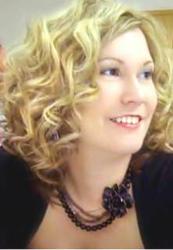 YOUNGSTOWN, Ohio (PRWEB) June 03, 2013
Kristin Knipp, a national advocate for ostomy patients, will speak at the next meeting of the Youngstown Area Ostomy Support Group.
The meeting will take place from 6:30 to 7:30 p.m. June 11 in the Cedar Room at St. Elizabeth Boardman Health Center, 8401 Market St., Boardman.
Knipp, who was diagnosed with Crohn's disease at age 9 and underwent ostomy surgery at age 15, has spent the last 17 years volunteering and advocating for ostomy patients.
In 2005, she founded the Young Ostomate and Diversion Alliance of America. In 2007 she began serving as conference planning chair and president-elect for the Ostomy Associates of America and was installed as its president in 2010. Knipp also serves as guest faculty at the Rupert Turnbull School of Enterostomal Therapy at the Cleveland Clinic, speaks at ostomy related events nationwide, and works as operations manager for Ostomysecrets, an online retailer that specializes in undergarments for people who have had ostomy surgery.
The Youngstown Area Ostomy Support Group, which meets monthly at alternating locations in Mahoning and Trumbull counties, provides support, education and encouragement to individuals who have or will have ostomies.
Families and friends of ostomy patients are welcome at the meeting. Refreshments are provided and parking is free. For more information, call 330-480-3440.
About Humility of Mary Health Partners:
Humility of Mary Health Partners is an integrated health system located in the Youngstown/Warren area. It is a region of Catholic Health Partners (CHP) in Cincinnati, the largest health system in Ohio and one of the largest Catholic health systems in the United States. HMHP provides a full spectrum of health care services, including inpatient, outpatient, emergency, urgent care, home care and long-term care. Members are St. Elizabeth Health Center, St. Joseph Health Center, St. Elizabeth Boardman Health Center, HM Home Health Services, The Assumption Village, Humility House, Hospice of the Valley and Laurel Lake. Learn more about HMHP online at http://www.HMpartners.org. ###