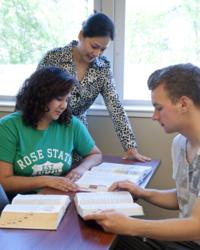 These two certifications can make you immediately employable
Oklahoma City, Oklahoma (PRWEB) June 01, 2013
What kind of demand? The kind that often have starting salaries of more than $50,000 a year, said professor Randy Stone, who teaches the curriculum for two classes, "Professional Bookkeeping," which prepares the student for national certification, and "Short-term Financial Management," which also offers certification in banking and financial management.
"These two certifications can make you immediately employable," Stone said, adding, "There is a lot of demand for these occupations in the Oklahoma City area."
Professional Bookkeeping Course (ACCT 2093) is designed to prepare students to take the Certified Bookkeeper Examination. It covers the level of knowledge and skill needed to carry out all key functions through the adjusted trial balance, including basic payroll, inventory, and internal controls. Upon finishing the class and passing the exam, the student is certified as a "CB" or Professional Bookkeeper.
Colleges and universities throughout the country are starting to offer this new, cutting-edge path to certification.
"We are the only college or university in Oklahoma to offer these types of courses," Stone said.
Short-Term Financial Management (ACCT 2343) teaches short-term financial management and financial statement analysis. Topics include cash management, credit and collections, payables management, bank relations, short-term investing and borrowing, and management of interest rate and foreign exchange risks. The class will provide preparation for students wishing to take the Certified Treasury Professional (CTP) exam.
While both courses can have prerequisites, they are also offered as stand-alone classes for certification alone, Stone said.
"These courses may be taken as a capstone in a degree, or as stand-alone courses for the working professional wanting to get up to that next level in their career," Stone said.
For more information about these classes or about Rose State College's accounting programs, call (405) 733-7477 or email rstone(at)rose(dot)edu.