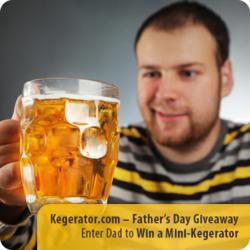 Kegerator.com wanted to do something for Fathers everywhere that are tired of the same old gifts.
Austin, TX (PRWEB) June 04, 2013
Father's Day is the one day every year dads get a simple token of appreciation from the family. It is also a day when every dad can be a guy's guy. Kegerator.com has announced they are joining the Guy's Guy Father's Day fun with a mini-kegerator giveaway.
Over the past several years, numerous polls have been conducted regarding the best and worst Father's Day presents. There are a handful of items that have consistently topped the list in both categories.
The worst Father's Day presents include ties, underwear, "World's Best Dad" paraphernalia (shirts, coffee mugs, hats, etc.), cologne/aftershave, and socks. These items consistently top the charts of things dads don't want to see on Father's Day. The best Father's Day present poll results consistently revolve around specific interests such as watching sports, golf, and items for the man cave.
Kara Zorn, Director of Business Development at Living Direct, stated, "Kegerator.com wanted to do something for fathers everywhere that are tired of the same old gifts. We decided the easiest way to make sure they got what they really wanted was to give it away."
She went on to say, "While not everyone can win the mini-kegerator, we are hoping that it inspires friends and families to take a few extra minutes to think about what dads really want. This is the one day a year that they are celebrated for what they do and the essential role they play within each family."
"Fathers come in all shapes and sizes, but that doesn't change how important they are." Kara Zorn also commented that "It can be difficult for kids and other family members to think of them (fathers) as anything more than dad. Hopefully, the mini-kegerator giveaway will help them realize that sometimes dad just wants to relax and have some fun, too."
About Us:
Kegerator.com is a website owned and managed by Living Direct Site Networks (Internet Retailer Top 500). Visit the Kegerator.com website or their blog at http://blog.kegerator.com or follow them on Facebook, Twitter, and YouTube to learn more about the mini-kegerator giveaway.