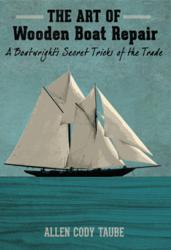 Long live the wooden boat!
Sarasota, FL (PRWEB) June 04, 2013
"Repairing wooden boats is by nature a renewable, sustainable effort. Instead of throwing away an old boat and building a new one, fix it, save it, re-use it. Sail it again. Wooden boats are designed to be repaired," says author Allen Cody Taube, announcing the release of his new book, "The Art of Wooden Boat Repair: A Boatwright's Secret Tricks of the Trade".
The new book, published by Granny Apple Publishing of Sarasota, Florida, is now on sale around the world at Amazon.com.
Getting a boat and sailing the sea is a dream for many, but not many can afford this luxurious dream. By repairing a wooden boat, this dream can become real. "If you are willing to work hard with integrity and dedication you could end up with a great sea boat.
Allen (Capt. Al) Cody Taube is a writer and illustrator, long time wooden schooner owner and captain, marine surveyor and wooden boat specialist who believes there is definitely an art to wooden boat repair.
The brand new, clearly written and illustrated book brings to the reader the experience and insights gained by Taube through 40 years of boat building, owning and sailing wooden schooners, marine surveying and wooden boat repair.
Taube's previous book, "The Boatwright's Companion", published in 1986, has become the wooden boat owner's bible and appeared on a recommended book list by the USCoast Guard. This new edition is updated, enlarged and destined to become a wooden boat owner's and wooden boat lover's favorite classic book.
For more information on the book, visit http://www.TheArtofWoodenBoatRepair.com.
To schedule an interview with the author, contact Granny Apple Publishing.
The Art of Wooden Boat Repair: A Boatwright's Secret Tricks of the Trade
Author: Allen Cody Taube
List Price: $19.95
7" x 10" (17.78 x 25.4 cm)
Black & White on White paper
202 pages
Granny Apple Publishing LLC
ISBN-13: 978-0988991002
ISBN-10: 0988991004
BISAC: Sports & Recreation / Boating / Wooden Boats / Maintenance and Repair
Granny Apple Publishing LLC is an independent publisher based in Sarasota, Florida. For a 2013 catalog, contact the publisher, Janet Verdeguer, janet(at)GrannyApplePublishing(dot)com.