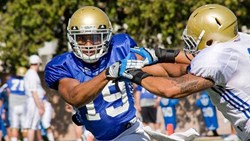 Rolling Hills Estates, CA (PRWEB) June 07, 2013
Sports Agent Jill McBride Baxter has signed Safety Dalton Hilliard. Hilliard graduated from UCLA and played safety, special teams, OLB, slot receiver, RB, and CB. He was a special teams player of the year and played wing on punt, hold up wing on punt return, frontline kick-off return, safety and five on kick-off. In the Casino Del Sol game, Hilliard made an interception for a touchdown, had 7 tackles, and 1 PBU.
When signing with Baxter, Hilliard commented, "Jill is the most supportive and trustworthy agent I interviewed in the process and I feel like having her represent me gives me an advantage and a better opportunity to reach my goal of playing in the NFL."
New agent Jill McBride Baxter says, "Dalton has speed, versatility, he can play all of the special teams positions, he has also played every position except OL, DL, and QB. He has good character, is a hard worker, and he has football intelligence."
Please visit http://www.jillmcbridebaxter.com/clients/userprofile/daltonh for more information.