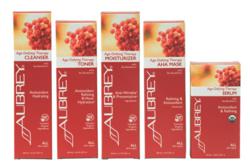 Aubrey's all-natural skin care line now also features many new, proven ingredients backed by clinical trials
(PRWEB) June 01, 2013
Gail Bowman, owner of Health Food Emporium, said in a recent interview, "Aubrey Organics has revamped and revitalized their skin care line. If you are a regular Aubrey user, you already know about their commitment to pure, wholesome, petrochemical-free products. In addition, Aubrey has now added some new ingredients that have been clinically proven. This combination of the ingredients that we know and love, plus some new additions, bring Aubrey's skin care line current with new discoveries in natural skin care."
According to Aubrey Organics, in a recent publication, "Aubrey is still using their signature ingredients, organic Rosa Mosqueta, sea buckthorn, oat protein, CoQ10, organic shea butter, jojoba and aloe vera, and many others. But Aubrey's all-natural skin care line now also features many new, proven ingredients backed by clinical trials: rye seed extract, carnosine and milk thistle to reduce the appearance and depth of wrinkles; prickly pear, organic quinoa and milk protein peptides to firm skin; beet root extract to boost the skin's moisture; sea aster to reduce redness and sensitivity; natural salicylic acid from willow bark to fight acne and blemishes, and many more.
"Like all of Aubrey Organics natural products, these new formulas are shaped by founder Aubrey Hampton's vision of blending centuries of old herbal traditions with new science.
"We believe great ingredients make great products. This is the simple philosophy at the heart of the natural personal care company Aubrey Hampton founded more than 45 years ago. Since the beginning, the high standards Aubrey set for themselves has not changed. Aubrey uses only the finest herbals, plant extracts and natural vitamins. You'll find no paraben preservatives, no artificial colors or fragrances, no petrochemicals in any of our products. "
Health Food Emporium is an online health food store that has been committed to providing natural, whole food, supplements and skin care since 2003.