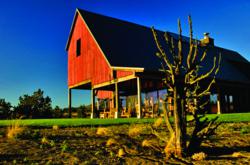 Chef Ryan's passion for sourcing locally harvested foods complements Brasada Ranch's culinary legacy – sourcing seasonally abundant ingredients from local and regional farmers and foragers, and preparing those ingredients in creative ways.
Bend/Powell Butte, OR (PRWEB) June 04, 2013
Brasada Ranch, a luxury resort community located in Oregon's high desert just northeast of Bend, OR, announces the appointment of Executive Chef Ryan Sturmer, formerly of the award-winning Urban Farmer at The Nines, A Luxury Collection Hotel in Portland, OR.
Cultivating New Roots
In 2012, The Nines, A Luxury Collection Hotel, added Conde Nast Traveler's "Reader's Choice Award" to its list of accolades and Brasada Ranch, a Preferred Hotel and Resort, was named "Oregon's Best Destination Resort" by The Oregonian. Both properties share an authentic sense of place, and both are anchored by farm-to-table culinary concepts. Chef Ryan's emphasis on local-first makes his move to Brasada Ranch a natural fit.
Chef Ryan's passion for sourcing locally harvested foods complements Brasada Ranch's culinary legacy – sourcing seasonally abundant ingredients from local and regional farmers and foragers, and preparing those ingredients in creative ways. Leading the Brasada Ranch culinary team, most of which have been at the property since reopening in 2011, Chef Ryan will also build upon Brasada Ranch's relationships with local ranchers who raise their animals in a healthy, humane and natural manner and farmers who grow their crops using organic practices. He will also build new partnerships that complement the Resort's farm-to-table culinary philosophy and continue to focus on environmental best practices.
"Farm-to-table philosophy has been a major focus for Brasada Ranch since reopening the Resort in 2011," said Scott Pickert, Senior Vice Present of Northview Oregon Resorts. "With Ryan's leadership and talent, we are going to take this culinary experience to the next level. Whether you are a locavore, a steak-and-potatoes savant, a foodie or a vegetarian, Chef Ryan's flavorful preparations and creative approaches to seasonal dining are sure to delight. We invite everyone out to discover what's new this year at Brasada Ranch. Feel free to bring the entire family."
Branching Out
In addition to his leadership at the Urban Farmer, Chef Ryan's responsibilities included providing culinary direction for The Nines' successful banquet operations and creating menu selections for thousands of guests. His experience will provide additional enhancement to events at Brasada Ranch. Banquets and events have been a rapidly growing part of the offering at The Ranch. In 2010, corporate groups, retreats, social events, and weddings were quite limited, whereas in 2013 these segments have grown significantly, representing nearly 40% of the Resort's total overnight guests, with intimate weddings scheduled nearly every weekend, May through September, and corporate retreats year-round. One reason these segments choose Brasada Ranch is the heightened culinary experience, and Chef Ryan has the skills and experience to enhance these experiences even further.
As Executive Chef at Brasada Ranch, Chef Ryan will be responsible for many dining options, including:

Range Restaurant & Bar, the Resort's seasonal dining destination, features creative, locally inspired menus highlighting local farmers, foragers and purveyors, and nightly specials. With equal parts indoor and outdoor seating, guests enjoy panoramic views of nine Cascade Peaks and legendary sunsets.
The Ranch House offers a comfortable, casual venue for breakfast, lunch and dinner including Ranch-style comfort foods with an equally strong emphasis on local ingredients.
Sundance and The Outpost serve tasty treats for the Resort's guests at the Athletic Center and the many golfers enjoying the best 18 views in Central Oregon.
Banquets and Events feature seasonal, customizable menus created by Chef Ryan, a wide open setting, panoramic views, unique and flexible event spaces, anticipatory levels of service from The Ranch's dedicated event staff and preferred partners, and so much more.
"We did some extraordinary things at The Nines, and here at Brasada Ranch I am very excited to have the opportunity to work directly with the area's local farms," said Chef Ryan, "many of which are just around the corner from The Ranch. Embracing Central Oregon's unique harvests from this authentic, high-desert property, has me very excited. I am anxious to get started and have many unique ideas for The Ranch."
About Ryan Sturmer
Sturmer brings more than 14 years of kitchen and restaurant management to his new position at Brasada Ranch. His experience includes training under several award-winning Chefs and developing many culinary programs at The Nines. Sturmer most recently served as Executive Sous Chef at The Nines' Urban Farmer Restaurant, and previously as Chef de Cuisine at Chow Restaurant in Bend. He is a graduate of the Culinary Institute of America in Hyde Park, NY.
About Brasada Ranch
Brasada Ranch, Central Oregon's only Preferred Hotel and Resort, is located just 16 miles northeast of Bend. Woven into 1,800 acres of Bend/Powell Butte, OR, the resort community offers some of the most inspired views in Central Oregon. Brasada Ranch features 50 luxurious two, three and four-bedroom Sage Canyon Cabins, eight Ranch House Suites, Brasada Canyons championship golf course designed by PGA TOUR professional Peter Jacobsen and Jim Hardy, Spa Brasada, the 17,000sf Athletic Center, Equestrian Center, and a farm-to-table restaurant and culinary program featuring local ingredients prepared by Chef Ryan Sturmer (June 2013). Brasada Ranch was the first newly-constructed destination resort in the U.S. to receive a gold rating from the U.S. Green Building Council's Leadership in Energy and Environmental Design (LEED). For more information, visit brasada.com.
Getting There
The privacy and splendor of Brasada Ranch is easily accessible and just 14 miles southeast of the Bend-Redmond Airport, which is serviced by daily, direct flights from Denver, Los Angeles, Portland, Salt Lake City, San Francisco, and Seattle. Driving, The Ranch is 129 miles from Eugene, OR, 160 miles from Portland, OR and 325 miles from Seattle, WA.