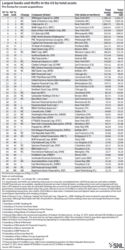 (PRWEB) June 03, 2013
SNL Financial's most recent ranking of the largest 50 banks and thrifts in the U.S. reveals some minor movements. The top seven held firm to the same spots in the first quarter as in the fourth quarter of 2012, with JPMorgan Chase & Co. clinging to the No. 1 position.
Again, JPMorgan and Bank of America Corp. remained the only companies with more than $2 trillion in assets, and — along with No. 4 Wells Fargo & Co. — the only companies with more than $1 trillion in deposits.
The largest jumps in the top 50 included Chicago-based BMO Financial Corp., moving up to No. 19 from No. 21, and Pasadena, Calif.-based East West Bancorp Inc., jumping to No. 48 from No. 50. BMO Financial's assets rose to $122.36 billion from $116.11 billion, while East West Bancorp's assets jumped to $23.10 billion from $22.54 billion.
The biggest downward movement was by Birmingham, Ala.-based Regions Financial Corp., dropping to No. 22 from No. 20, as its assets fell to $119.72 billion from $121.35 billion.
Keep reading the full report and analysis here: http://www.snl.com/InteractiveX/Article.aspx?cdid=A-17813083-11061