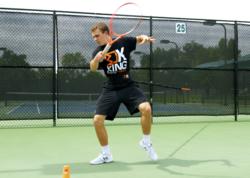 It can be very frustrating to play an opponent that can run down everything you hit at them. The great players are able to cover the court with ease. - Bob King
Dallas, Texas (PRWEB) June 26, 2013
Speed and Agility Equipment manufacturer King Sports Training has partnered with T Bar M Racquet Club, the only USTA training center in the state of Texas. The tennis club already hosts the Men's Challenger of Dallas and boasts what many consider to be the top junior tennis program in the country.
"We're very excited to have King Sports Training fueling our speed and agility program," said club owner Glen Agritelley. "Tennis is a fast sport and we want to provide every possible resource for our players to compete at the highest level."
King Sports Training has put a tennis training package together that includes a Speed Ladder, 10 Speed Hurdles, the OverSpeed Trainer 360 and 9-inch cones. Company founder, Bob King, has personally trained a number of world ranked tennis players in his career as a strength and conditioning coach; including former #3 ranked in the world, Gabriela Sabatini.
"Tennis is about moving fast in a small space. Our equipment works to improve speed and agility, which increases a tennis player's ability to cover more ground on the court." says King. "It can be very frustrating to play an opponent that can run down everything you hit at them. The great players are able to cover the court with ease."
The addition of King Sports Training to T Bar M comes after a recent update to their Wellness center that includes a Cryotherapy chamber. The club has always been known as a machine for producing nationally and world ranked Junior tennis players, and has really focused on developing an all around athletic development facility.
"We want to be the best at what we do and we believe King Sports Training is the best when it comes to speed and agility." said Agritelley.
The King Sports Training website has a video library that provides free workout videos for athletes to used with their training equipment. The equipment is also available through their online store; http://www.kingsportstraining.com.
Speed and agility has its benefits for all sports, not just tennis. King Sports Training has an extensive background with other sports such as football, basketball, baseball, lacrosse, volleyball and softball, to name a few.
"Our goal is to develop complete athletes." says King, "We know that the coaches at T Bar M are some of the best at what they do, we just want to provide the tools they need to succeed."