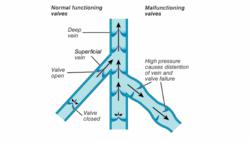 Varicosities in the pelvis may lead to pelvic congestion syndrome, causing pain and a decreased quality of life for the sufferer
New York City, NY (PRWEB) June 17, 2013
New York Cardiovascular Associates has released a new article on their website stating that, while varicose veins are most associated with the legs, this is not the only place varicosities can appear. The New York City vein center aims to further educate the public, and went on to assure patients that there are treatments available for varicose veins no matter where they appear on the body.
Some women may experience veins in the pelvic area. "Varicosities in the pelvis may lead to pelvic congestion syndrome, causing pain and a decreased quality of life for the sufferer," says a NYCVA representative. Pelvic congestion syndrome can be treated through embolization, a treatment that blocks off a problematic vein using glue, metal coils, foam or another medical substance.
New York Cardiovascular Associates can help to diagnose and treat varicose veins in most parts of the body. They are encouraging their patients to expand their understanding of varicosities to include areas outside the legs.
Less obvious varicosities like the ones that cause pelvic congestion syndrome can be difficult to detect. Patients are encouraged to visit a vein center when trying to diagnose the cause of chronic pain to rule out the possibility of varicosities outside the leg.
For more information, please visit:
nycva.org/2013
About New York Cardiovascular Associates
New York Cardiovascular Associates is New York City's premier center for cardiac, vascular, pulmonary, sleep disorder, and primary care. The center has been providing the five boroughs of New York City with leading-edge care since 2005. New York Cardiovascular Associates is unique in giving patients access to a team of physicians that encompasses every field of cardiology. From the center's Manhattan office, NYCVA cardiologists provide complete patient services, including heart disease prevention, cardiac screenings, and treatment for the full range of cardiovascular conditions. In addition to superior cardiac care, New York Cardiovascular Associates provides vascular, arterial, pulmonary, and internal medicine care. Physicians and specialists work together to develop comprehensive treatment plans, whether treating patients for a single condition or for multiple health issues. NYCVA has earned multiple national accreditations, and its doctors and technologists are recognized among the top experts in their fields.
New York Cardiovascular Associates
http://www.nycva.org
Tel. 646-233-1838