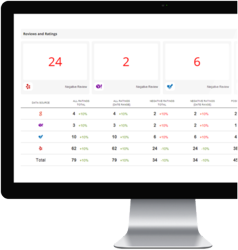 Anaheim, CA (PRWEB) June 03, 2013
Several members of the Where 2 Get It team will be exhibiting some of their most current technology in local digital marketing at the 2nd annual Street Fight Summit West at the Bently Reserve in San Francisco from 8am to 7pm on June 4, 2013. Attendees will have the opportunity to engage with the team and participate in discussions around social, local, mobile analytics and technology.
One product that will be highlighted is Where 2 Get It's Review Monitor. "We have earned a reputation as a strategic partner offering location-based digital solutions. One of the biggest challenges national brands face is an efficient way to monitor reviews at scale," says Manish Patel, CEO. "With the launch of Review Monitor, multi-location businesses now have a centralized way to monitor and engage with online reviews from various social review sites including: Yelp, Yahoo! Local, Google+ Local and Foursquare." The Review Monitor allows for aggregation of data from multiple business locations as well as the ability to drill down and sort by specific locations from all the major review and rating sites. The Review Monitor also provides one-click access to a business' specific location profile for each review or rating site allowing users the ability to easily and efficiently respond to customer feedback and reviews on a local level.
For a free competitive analysis, attendees to Street Fight Summit West are encouraged to set up a meeting with the Where 2 Get It team. To learn more about Where 2 Get It's local digital marketing solutions (including the Review Monitor), contact the team to schedule a demo. For more information about Where 2 Get It's award-winning local digital marketing solutions, please visit the Where 2 Get It website and connect with Where 2 Get It on Facebook, Twitter, LinkedIn and Google+.
Where 2 Get It was founded by CEO Manish Patel in 1997 and has since grown into an industry-leading provider of location-based digital marketing solutions powering more than 550 brands. Serving more than 500,000 bricks-and-mortar locations, Where 2 Get It has channel strength that reaches millions of consumers around the world. Patel has lead Where 2 Get It in developing local marketing solutions that include scalable Local SEO, local advertising, mobile-local technologies, local-social marketing tools for brands, and more.