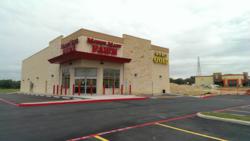 San Antonio, TX (PRWEB) June 01, 2013
On May 31, 2013 Money Mart Pawn & Jewelry is having a grand opening of their 6th location in the city of San Antonio located at 11014 Culebra Rd, San Antonio, Texas 78254. This store is in a brand new building offering 3000 square feet of retail space. The growth of the company has been phenomenal with new locations being added regularly and now the sixth one in this community. The soon six locations in San Antonio as well as other cities in Texas allow much more convenience for the customers. All who are interested in seeing the new store are invited to come tour the brand new location and product availability at 11014 Culebra Rd, San Antonio. The friendly and knowledgeable team members will be ready and willing to help you starting May 31, 2013. Special offers are available.
Money Mart Pawn & Jewelry opened its first pawn store in January 1993, in San Antonio, Texas. Since that time it has grown into a multiple store chain, operating stores in San Antonio, Houston, Pearland, Humble, Bellaire, Universal City, and Boerne. Now one more location has come to San Antonio as part of this growth. The fast and successful growth can be attributed primarily to a great understanding of the customer needs and wants. Money Mart has been built on a sincere desire to offer good value and excellent service to their customers.
Money Mart's understanding of its customers and their desire for value is truly unsurpassed allowing the stores to create services and maintain quality items for sale at prices well within most consumers' budgets including an easy no interest layaway plan. Now with the new pawn store added to the family, Money Mart Pawn & Jewelry is able to offer more convenient locations with excellent services. Services are provided in a comfortable, friendly, dignified atmosphere. The total customer experience is what really sets Money Mart apart from its competitors.
Money Mart's many locations including the one new pawn store as well as additional information can be found at the website http://www.moneymartpawn.com or by phone at 1-800-828-7296.