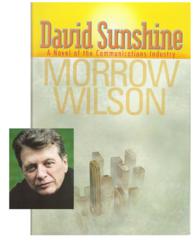 Pursuing the American Dream in spite of rude awakenings
New York, NY (PRWEB) June 25, 2013
In David Sunshine, Morrow Wilson depicts the1960's as a period that started brightly but ended darkly.
"We had Woodstock, the Beatles, and an unprecedented economic boom," says Morrow Wilson. "But, before the decade was over, there were also church bombings, political assassinations, an unwinnable jungle war, campus protests, race riots and cities in flames.
"We began the decade with so much optimism and openness, yet it ended in confrontation, fear and security guards everywhere – and this was, of course, more than thirty years before 9/11."
David Sunshine is a story of the TV industry in the age of MAD MEN. It is funny; it is heart-breaking; it is even encouraging. It tells the tale of an innocent young man who comes to the big city and goes to work for the most famous and highly-regarded TV producer/talk show host in the land, who proudly (if privately) boasts of being a successful con man. The book follows in the footsteps of Dickens and Mark Twain, whose best work is full to overflowing with colorful characters who either scare the hell out of you or make you laugh out loud. Like those authors, Morrow Wilson delights in exposing mindlessness and hypocrisy in high places.
It is fact based – Morrow Wilson was there -- and funny. And it is dedicated to the memory of his late wife of twelve years, actress Rue McClanahan. "We both spent a good deal of time laughing at our own early adventures in the world of television."
Always a novelist, Morrow Wilson began the 1960s in TV production, then went on to become a successful broadcasting and advertising executive before stepping out from behind the scenes to become a working actor, singer and voice-over artist. He describes himself as "a Renaissance Man between Renaissances."
"The '60s was a decade of firsts – the first Irish Catholic president, women's lib, rock concerts, the sexual revolution, pop art. But by the time it was over, our social revolution had produced a great deal of displacement and so much fear had crept into our everyday lives. I went back to visit my old college dorm," says Morrow Wilson. "I needed a Seal Team to get me into the building. What a shame. What a change!"
David Sunshine is a testament to its hero's ability to press on, pursuing the American Dream in spite of rude awakenings. "The politicians of that era talked about "a light at the end of the tunnel." David Sunshine is about the dawning of what the Chairman of the FCC of that time called "a vast wasteland."
http://davidsunshinethenewnovel.com
regaleaglesnest(at)live(dot)com