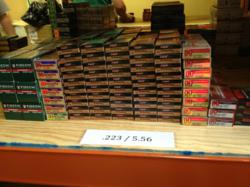 Earning the trust of our customers is our number one goal!
Franklin, TN (PRWEB) June 03, 2013
With the rapid growth of their firearms business, Ventura, LLC, who owns Firearms For Sale, recently opened an additional office and warehouse space in Franklin, TN.
The website launched in early November and has shown dramatic growth ever since; surpassing their annual goals in their first 3 months. They credit much of their early success to the controversial political war on firearms in the media. However, it's not all about politics. The Firearms team has also created a unique experience for their customers which sets them apart from the competition.
"During a time when prices were increasing, we made sure to stay competitively priced and in favor of our customers. Earning the trust of our customers is our number one goal, and this is a main contributor to the continued growth of our business," says Sam Dryden, head of customer support at Ventura.
Firearms For Sale has also begun carrying several law enforcement lines. This has opened up a great opportunity to provide manufacturer pricing incentives to help local law enforcement.
Next week, the firm plans to launch a new website that will showcase new inventory, enhanced search options, and a streamlined ordering process which will increase the speed of their shipping.
About Firearms For Sale:
Firearms For Sale is an online gun store for Newton's Guns and Ammo, which was founded in 1994. Newton's Guns and Ammo is an FFL Dealer located in Benton, Kentucky.
At Firearms For Sale, we pride ourselves on our outstanding customer service team and we continue to make our customers our number one priority. We create an environment that makes our customers feel at home. We firmly believe that a good customer is a happy customer. For more information, please visit http://www.firearmsforsale.com.