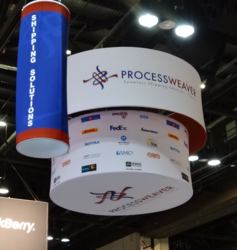 All our shipping solutions fit perfectly in this environment and we look forward to performing newer functionalities next year.
(PRWEB) June 04, 2013
ProcessWeaver Inc., a leading provider of multi-carrier multi-modal shipping solutions, had big success at SAPPHIRE NOW and ASUG Annual Conference 2013 which took place on May 14-16, 2013 in Orlando, FL, US.
SAPPHIRE NOW and ASUG Annual Conference 2013 is the world's largest industry event. It presented an exceptional opportunity for all the SAP customers to meet with SAP partners and ASUG associate members from around the world in one place. Hundreds of IT companies and thousands of attendees converged to Orlando, FL to leverage unique educational, networking, informational and marketing opportunities. The SAPPHIRE NOW addressed the latest innovations from SAP, including supporting technologies such as mobile, on-demand, and in-memory computing.
ProcessWeaver provided a larger booth this year with a wide variety of solutions for the SAP customers. Customers and partners were excited to see live demonstrations of how they can leverage their existing SAP ECC, EWM, and TM system to perform the outbound shipping and tracking process. With Enterprise Centralized Shipping (ECS), the core TMS module, it's now easy and simple no matter the shipping mode. ProcessWeaver's team also provided insight on how to gain full control and visibility into all customer's inbound shipments from suppliers with ProcessWeaver's Supplier TMS Portal (STP). Suppliers will have real time access to POs and the organization will have visibility into already shipped POs.
ProcessWeaver's Mobility solution was a big hit as it enables personnel to perform the shipping process from anywhere within the warehouse. It performs the transportation tasks, improves efficiency and provides the ultimate power to mobile users.
ProcessWeaver's discussion forum from Drive Medical drew a large audience to maximum capacity. Attendees were eager to hear how Drive Medical improved its inbound/outbound shipping process and responded with many questions on how to improve their own environment.
Martin Garza, Sr. Director of Sales for ProcessWeaver, met with many customers, partners and curious attendees to discuss ProcessWeaver's shipping solutions running on various mobile devices and viewing our native SAP solution. "ProcessWeaver's Multi-Carrier Inbound/Outbound Shipping and Mobile Solutions, designed to bring shipping process to the next level, arouse a genuine interest among SAP users and customers at the show. All our shipping solutions fit perfectly in this environment and we look forward to performing newer functionalities next year," said Martin Garza.
About ProcessWeaver:
ProcessWeaver was founded in 2005 and headquartered in Santa Clara, California with operations worldwide. ProcessWeaver is a leader in providing automated multi-carrier compliance shipping software. ProcessWeaver solutions work with multiple carriers e.g. FedEx, UPS, DHL, USPS, TNT, Purolator, LTL, and TL as well as with freight forwarders.
ProcessWeaver's Suite of products offers a simple, reliable, fast, and cost-effective way to address the critical business problems with its comprehensive list of proven solutions that can be deployed right within the SAP landscape or as a platform independent web application. For more information about ProcessWeaver, please visit: http://www.processweaver.com or email info(at)processweaver(dot)com or call (888) 932-8373.