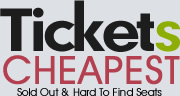 In a recent survey they even came in with prices less than Stubhub by 6% to 16%. Enjoy the great shows coming to Philadelphia and spend less for tickets.
Philadelphia, PA (PRWEB) June 17, 2013
Philadelphia residents who enjoy great concerts, theater and pro sports need to pull out their calendars and start choosing from amongst the many upcoming shows and games they want want to buy tickets for. With the savings from Financial Firebird Corporation's Tickets-Cheapest.com and its sister discount tickets sites, fans might save enough compared to other ticket resale sites that they may even be able to attend an extra event.
The two Philadelphia Rolling Stones shows kick off this week with many last minute tickets still available for the tour dates in the Wells Fargo Center. After these concerts the Rolling Stones play the Verizon Center in Washington DC and then two dates in London. It could be history will find these to be the final 5 Rolling Stones shows ever with Mick Jagger, Keith Richards, Charlie Watts and Ronnie Wood all together let alone the almost certain guest appearance by Mick Taylor for a few songs including Midnight Rambler. Rolling Stones fans in Philadelphia should take advantage of this rare opportunity.
As the summer, fall and winter approach the Wells Fargo Center hosts concerts including One Direction June 25, The Eagles Philadelphia Concert July 16, Justin Bieber July 17, Beyonce July 25, Black Sabbath August 10, Muse September 9, Micheal Buble September 21, Selena Gomez October 18, Josh Groban November 3, Pink December 6 and Rod Stewart with Steve Winwood December 11. Tickets for all of these Philadelphia concerts are available from Tickets-Cheapest.com even when a show is sold out. The site also offers premium seats and floor seats that may be unavailable from the box office. The most well attended may end up being the Taylor Swift Philadelphia shows at Lincoln Financial Field both July 19 and July 20.
Philadelphia Broadway fans get one of the most popular Broadway touring shows visiting town at the Academy Of Music when Wicked opens on June 26. In November the musical Flashdance comes to Philadelphia followed by Jersey Boys in December.
Those who would prefer a pro sports contest can buy tickets for the Philadelphia Phillies or tickets for Philadelphia Eagles football games at discounts too from Tickets-Cheapest.com online. Tickets for other sports are available too including 76ers, Flyers and even the Monster Jam.
For any Philadelphia venue, including The Wells Fargo Center, Lincoln Financial Field, Citizens Bank Park, The Academy Of Music and more Tickets-Cheapest.com can offer the cheapest resale tickets available. In a recent survey they even came in with prices less than Stubhub by 6% to 16%. Enjoy the great shows coming to Philadelphia and spend less for tickets.
About Financial Firebird and Tickets Cheapest
The site to buy Cheap Tickets online and its sister sites, including the site to buy a ticket for Broadway New York or Broadway tour tickets, including Boston Broadway tour dates, all geared for the consumers looking for low prices, are affiliated with the Financial Firebird Corporation Travel Group, and stand among the top sites sought by travelers and people who enjoy concerts, pro sports and theater performances. Financial Firebird Corporation, established in 2000 and a proud BBB member, provides unbiased consumer information particularly involving personal unsecured debt or mortgages, software and marketing services. These sites for consumers to buy tickets online operate in the resale market and maintain no relationship with the venues or performers. The resale ticket market allows consumers access to popular events once the box office has sold out or to buy premium seats when the venue no longer offers any inventory. Within the group of these secondary market ticket services the Financial Firebird owned ticket sites offer lower prices than competitors. Find the site at Tickets-Cheapest.com.