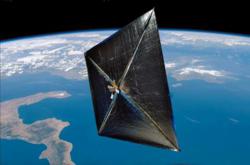 We identify space no other firm can find because we contact every property owner, landlord listing broker and corporation to find missed lease and sublease opportunities
San Diego, CA (PRWEB) June 03, 2013
John Galaxidas, President and CEO of Synergy Real Estate Group, Corporate Advisory, announced the company has completed its 3rd commercial real estate requirement for NASA.
NASA recently retained the services of Synergy Real Estate Group, Corporate Advisory headquartered in San Diego, California to help them identify a hard to find space.
The facility had to be a specific depth, width, height and triangular in shape. NASA's contractor L'Garde, who is building the largest solar sail spacecraft of its kind in Tustin, California, originally hired a local tenant representation firm to help them find the space.
After spending six months with another tenant rep firm, NASA - L'Garde switched to Synergy which was able to identify the right property in just two weeks as a result of an exhaustive search process.
"We identify space no other firm can find because we contact every property owner, landlord listing broker and corporation to find missed lease and sublease opportunities. Most tenant representation firms rely 100% on commercial listing services to identify space," said Galaxidas.
"At Synergy, we track every space in the local submarkets daily and will be sure that you are made aware of all possibilities, as many are not marketed publicly," said John Galaxidas.
This was the third transaction the company has completed for NASA and Synergy's growing client list includes Hitachi, Farmers Insurance, HP, DELL, Cisco Systems and Charles Schwab.
The company provides their commercial real estate services at no cost to clients because all leasing fees associated with a building are budgeted for and paid by the landlords. Since those fees have already been accounted for, clients incur no costs for Synergy's tenant representation services.
"At the end of the day, you receive a complete value added service which helps you avoid missed opportunities and saves you time and money since we do all the leg work for you," said Galaxidas.
Synergy Real Estate Group, Corporate Advisory is the largest group of independent commercial real estate tenant representation brokers in North America. Headquartered in San Diego, California, Synergy has over 120 associate offices throughout the US, Canada, Mexico, UK, India and China. For more information about Synergy Real Estate Group, Corporate Advisory, please visit their web site: http://www.synreg.com or call: (888) 979-7787.