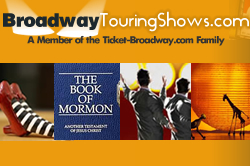 As a musical widely considered one of the best on Broadway since 1997, the Lion King touring shows now brings this fan favorite to audiences in LA, Phoenix and others around the country not able to travel to New York City.
Los Angeles, CA (PRWEB) June 02, 2013
The Broadway touring version of Walt Disney's The Lion King musical opens in Tempe Arizona October 22 and Los Angeles November 20. Tickets for the Los Angeles Lion King run at Pantages Theater went on sale a few hours ago and tickets for the Tempe Lion King performances at ASU Gammage on the Arizona State University campus go on sale June 3.
As a musical widely considered one of the best on Broadway since 1997, the Lion King touring shows now brings this fan favorite to audiences around the country not able to travel to New York City. With a few changes and additions, the play follows the story from the Disney movie The Lion King about the lion cub who will become the king of the jungle. With music by Elton John and costumes that won awards including a Tony, Drama Desk, Olivier and Molière this incarnation of the Touring Lion King musical surely stands to captivate audiences.
In addition to the Lion King in Los Angeles CA and the Lion King in Tempe AZ this tour makes stops in Tulsa OK, Cleveland OH, Charlotte NC, Pittsburgh PA and appears as one of the many Broadway touring shows in Dallas TX. After the Los Angeles and Tempe Lion King tour dates the show continues on in 2014 to Honolulu HI, Seattle WA, Atlanta GA, Toronto ON wrapping up their Broadway tour in Washington DC.
Tickets for all Broadway touring shows as well as exact tour dates and performance schedules may be found at BroadwayTouringShows.com where fans save even more with discount code BPACK5. When looking to attend a sold out show or in need of last minute tickets or premium seats visit the site for the best way to buy Broadway Touring Show tickets. While the best seats and most popular tour dates may sell out fast, people can always find every show with a wide variety of seats including the best sections at BroadwayTouringShows.com and compared to other resale sites, including Stub Hub their ticket prices are cheaper.
Parents who enjoy Broadway shows often think about plays and musicals to serve as an introduction of Broadway for kids. The Lion King makes a great option as a Broadway show for children to see as a first show because they probably already know and enjoy both the story and the music. For some families another advantage of a Broadway touring show involves the lower ticket prices, compared to a Lion King Broadway New York City performance. For a family with lot of kids a visit to see the Lion King in Los Angeles or Tempe could save over $100 per ticket versus Broadway NYC, and that can really add up with a larger group.
Broadway fans living in Los Angeles or Tempe should mark these days on their calendar and plan an outing to see the Lion King musical as it tours in their town: Tempe October 22 - November 17 and Los Angeles November 20 - January 12, 2014. Few shows bring together a story, music, costumes and creativity in presentation the way the Lion King musical does. Buy tickets and enjoy this great Broadway show while it tours close by.
About Financial Firebird and Broadway Touring Shows
The site to buy Broadway Touring Show Tickets online and its sister sites, including the Broadway Tickets and Hotels in New York City site and Cheap Tickets online site all geared for the consumers looking for low prices on tickets, are affiliated with the Financial Firebird Corporation Travel Group, and stand among the top sites sought by travelers and people who enjoy concerts, pro sports and theater performances. Financial Firebird Corporation provides unbiased consumer information, software and marketing services - established 2000 and a proud BBB member. These sites for consumers to buy tickets online operate in the resale market and maintain no relationship with the venues or performers; the resale ticket market allows consumers access to popular events once the box office has sold out or to buy premium seats when the venue no longer offers any inventory. Within the group of these secondary market ticket services the Financial Firebird owned ticket sites offer lower prices than competitors. Find the site at BroadwayTouringShows.com.